PREVIOUS RELEASES ON CRUDITES TAPES

CRU001: V/A "Tartare de subconscient infini" (CS 60)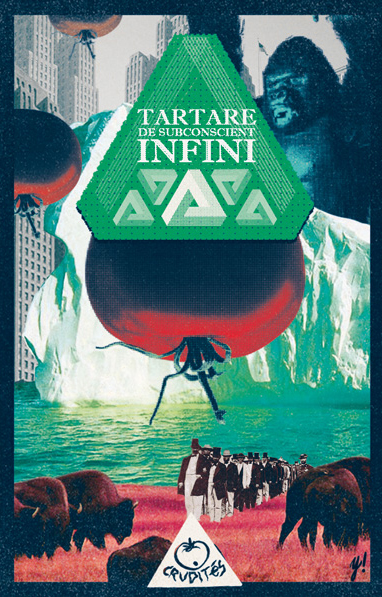 First release of sdz's new imprint "Crudites Tapes". Llimited edition (150 copies) tape compilation with 18 tracks from 18 different bands. This includes current or past side-projects from bands like Bosom Divine, Pierre & Bastien, Cheveu or Les Hulks. Mastering by El Mofo. Artwork by Pierre.
We truly hope you'll have as much fun listening and reading this as we had preparing the whole thing!
"No less than 18 projects from France and possibly elsewhere are crammed into a C60, with discovery and awareness for you, the listener, in mind. This is about as various as Various Artists gets, though acceptable Francophone punk/undergrowth parameters are adhered to, so you'll find noise and tape/splice manip jobs up against parping new wave/synth romps, lots of garage, weird punk, tensed-up bedroom thrash, overdriven drum machine stomp, and the like – the obsession with early rock/roll and rhythm/blues comes to the fore, as is expected, though I was duly impressed by the 2050s' passionate read of "I Stand Accused," tearing a few chapters from the Reigning Sound playbook. Would take more listens than I've got the time for to suss out any further standouts, but once you get through most of the xpr tangle of side one, those of you who dig activities from the Les Disques Steak/Born Bad/SDZ triangle (these are probably a bunch of side projects of their artists) will find yourselves enjoying the spiel, as the sounds are familiar, and the names are intriguing. Who knows when you'll encounter Saigon Automat or Free Kaxti again?!? Numbered edition of 150." - Doug Mosurock / Still Single - Dusted Magazine

You can listen to the whole comp right here // Ecoutez toute la compilation par ici:

Available for download on our Bandcamp
~~~~~~~~~~~~~~~~~~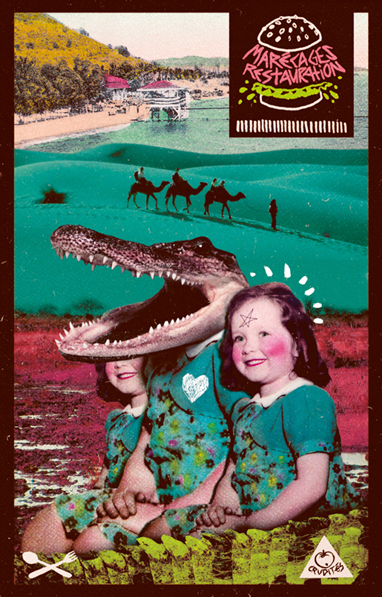 CRU 002: V/A "Marecages Restauration" (CS 60)
A new 20-songs, 20-bands tape compilation (60mn) on SDZ's sub label Crudites Tapes. Limited edition of 100, tape's color is "rustic orange".
Featuring Tretetam, Lahundoj, Ilth, Flowerman, Les Choeurs de la mer noire, Opéra Mort, Mulan Serrico, Tette Chèvre and many more!
"With a cover depicting a gator's head on a child's body, you can't help but be a bit worried that the sounds won't quite live up to the sights, but this French compilation is packed with enough sonic goodness to do a picture of the pope in a rhinestone suit justice. It's a bit lengthy (twenty tracks clocking in at an hour), but the affair never grows dull thanks to the sheer variety of sounds scattered throughout. Windswept soundscapes and manipulated samples of speakers discussing schizophrenia saddle up beside uneasy folk and good ol' guitar-driven rock. Electronics run the gamut from dying machine to fast-motion dream. The vocals are playful just as often as they are downright creepy, and the songs are sung in English almost as frequently as they are in French. There's even a cover of "Strychnine" thrown into the mix, because why not throw a cover of "Strychnine" into the mix. Definitely worth trekking on over to Bandcamp to try/buy" - Cassette Gods
"Tout ce qu'il nous faut. Objectif jouissance. Jusqu'à plus soif." - Message to our folks
You can listen to the whole comp right here // Ecoutez toute la compilation par ici:
Available for download on // Disponible en téléchargement sur notre Bandcamp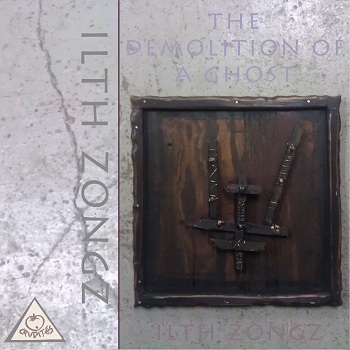 CRU 003 : Ilth Zongz "The Demolition Of A Ghost" (CS 30)
Incroyables collages reel-to-reel de notre homme à Chicago, Christopher Ilth (Functional Blackouts, Daily Void). 9 morceaux de sombres manipulations analogiques qui ont de grande chance de vous faire tourner la tête dans tous les sens comme la B.O. d'un vieux film d'horreur.

Reel-to-reel collages from our man in Chicago, Christopher Ilth (Functional Blackouts, Daily Void). 9 tracks of dark analog manipulations very likely to make your head spin like the soundtrack of an obscure old-school horror flick.
"Ilth Zongz's The demolition of a ghost is like listening to a noir-industrial soundtrack. Ilth Zongz is Chicagoan Christopher Ilth (Functional Blackouts, Daily Void) and the album was made with reel-to-reel collages according to the label. I'm impressed. This sounds way more digital and as each track is simply titled "Song 1-9" we as listeners are encouraged to draw our own conclusions. Both tapes add a great deal to the musical dialog of our times." - Cassette Gods
"Ith Zongz is a project by Chicago analogue manipulator Chris IIth (Daily Void, Functional Blackouts). 'The Demolition of a Ghost' is a new release from Crudites Tapes comprised of nine brooding instrumentals delivering cold static you might expect from an Industrial band touched by electronic experimentalism. This recording is super minimal so the smallest of shifts feel all the more gnarly for it, stark digital tones tweak and twitch whilst coalescing together with undercurrents of murky fuzz. The spooked collage of noises 'The Demolition of a Ghost' offers up is a great addition to the Crudites Tapes cannon and I'm really excited to see what else this label has in store for 2013." - Gilded Gutter
You can listen to the album right here // Ecoutez l'album ici:
Download available // Téléchargement disponible via Bandcamp
~~~~~~~~~~~~~~~~~~
CRU 004 : The Spectrometers "Off" (CS 30)
Projet parisien minimal electronics / old school indus, combinant sonorités analogiques vintage, guitares post-punk et drum-machines à l'ancienne. Un minimalisme authentique, froid et mystérieux qui place The Spectrometers quelque part entre Delia Derbyshire, Young Marble Giants, Cabaret Voltaire et Suicide. "Off" fait suite à deux disques formidables: "Dead Soul Music" LP (Decasin, 2008) et "1/2 Mechanism 1/2 Organism" 10" (Autoproduit, 2010).

French minimal electronics / old school industrial band, combining vintage analogue sounds, post-punk guitars and old-fashioned drum-machines. Authentic, cold, haunting minimalism somewhere between Delia Derbyshire, Young Marble Giants, Cabaret Voltaire and Suicide. "Off" follows two fantastic records: "Dead Soul Music" LP (Decasin, 2008) and "1/2 Mechanism 1/2 Organism" 10" (Self-produced, 2010).
"Spectrometers' latest release, Off, is extremely minimal music that makes intense and unexpected uses of the few pieces of sound that it allows itself. Pointedly machine beats collide and spark with less rhythmically inclined loops to create a harsh light that illuminates what seems like the angular edges of what must be a much larger structure. It's music to stare into a microscope by, while standing in between two malfunctioning cloning tanks, oblivious to the strange party that is happening inside them. It's real life, scary industrial hissing off your tape deck." - International Tapes
"Industrial in parts, electronic blippity-boppity here and there, and warm all over, The Spectrometers album Off is a thumper of listen. The group is clearly indebted to bands like Cabaret Voltaire and Suicide, which isn't a bad thing necessarily, yet they concoct a set of pieces that combine elements of stuff we've all heard before into a satisfying new whole. The title composition frames the album in mystery static as it is also the finale, but in between is good, quality music. I'd like to seek out more works by The Spectrometers" - Cassette Gods
""...la cassette de Spectrometers séduit par ses aspects compacts : peu d'informations, une pochette tout en gris et une musique du même alliage, faisant un tour d'horizon depuis le minimalisme électronique jusqu'à la no-wave lo-fi, le tout fabriqué en chambre. Un artisanat séduisant (...) sa cassette est un tube chez nous"" - Joseph Ghosn Blog
"First up is a tape by The Spectrometers called 'Off', a chilling post-punk piece utilizing drum machines and archaic analogue sounds. I didn't come up with much after researching The Spectrometers except their bandcamp which cited, "French minimal electronics / old school industrial band". The fact it's hard to discern whether this is a new tape influenced by said genres or unearthed recordings speak volumes about the authentic sound on 'Off'. Title track and opener "Off" sets an isolating tone with raspy tape hissing. "Fallacy" follows with looped beats, sharp synthesizers and a low repetitive bass line. It's a sense of paranoia that threads through the tracks, made all the more tense by the tracks never quite resolve themselves - aptly displayed on one of my faves "Orgone". Locked into one arcing arrangement "Orgone" intensifies and as it reaches a point of climax plaintively ends, then repeated. 'Off' is a great listen as there's no release from the fraught atmosphere propelling a state of anxiety throughout." - Gilded Gutter
You can listen to the album right here // Ecoutez l'album ici:
Download available // Téléchargement disponible via Bandcamp
~~~~~~~~~~~~~~~~~~
CRU 005 : V/A "Réviviscence Ectoplasmique" (CS 60)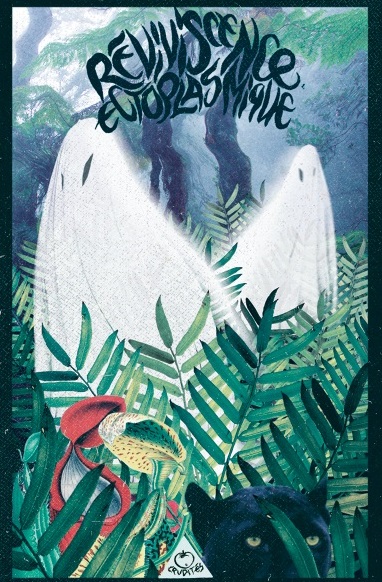 A new compilation from SDZ's sub label Crudités Tapes: 16 bands from all over the world. From Charentes to Melbourne, from Montréal to Bruxelles, from London to Belarus with stops in Saint-Ouen and Varennes-sous-Dun, "Réviviscence Ectoplasmique" is the revenge of the ghosts. Like the legend of the phenix, the truth is hidden somewhere in Sermaize-les-Bains in a room full of sugar. You are not a dentist, you want music and here's what you get: raw vegetables and no smiles. Dig!

Nouvelle compilation de Crudités Tapes: 16 groupes du monde entier. Des Charentes à Melbourne, de Montréal à Bruxelles, de Londres à la Biélarussie en passant par Saint-Ouen ou Varennes-sous-Dun, "Réviviscence Ectoplasmique" est la revanche des fantômes. Comme la légende du phénix, la vérité est cachée quelque part à Sermaize-les-Bains dans une pièce pleine de sucre. Tu n'es pas dentiste, tu veux de la musique et voilà ce que tu obtiens: des crudités et pas de sourire. Kiffe!

"I've put off reviewing this fantastic compilation of forward thinking noise, rock and pop artists from what I believe is a French Cassette label, Crudites Tapes, because it's a daunting challenge to really review a compilation that gives the release justice. All the songs don't necessarily correspond to the one before as various acts have very varying styles of approaching music. To put it simply, there's a lot going on here. So I'm just going to wing it, who cares?

If you desire sonic variety in your cassettes, look no further. This cassette offers a great range of flavors for those who don't mind their music super noisy or psychedelically loungey. From challenging foreign vocal scream fests to surf reverb distortion doo-wop... it can be skuzzy and cool, as harsh as a microphone crushing a half stack - and as psychedelic as minimal hip hop beat accompanied by dark phoenix feedback and LSD handclaps. It's not without acoustic guitars, vocal harmonies and brass arrangements as well! There's songs in here that can meet the needs of a young dark-synth fanatic to a cool grandparent in a beach resort nursing home. There's also just strange foreign reinterpretations of classic rock/ballad structures, garage rock in different languages that I don't even know, you know ... if you like obscure, cool music from lands far away, ... wow, hey, what more do you want?

Also, the cover artwork by Pierre Tatin is FANTASTIC! I wonder how big it is in real life? Kind of reminds me of the ghosts from and the color pallette of "Princess Mononoke".

So yeah ... blast it for new and neat surprises ... ! I recommend highly." - Cassette Gods
You can listen to the cassette right here // Ecoutez la K7 ici:
Download available // Téléchargement disponible via Bandcamp
~~~~~~~~~~~~~~~~~~
CRU 006: Red Math "Submarine" (CS 60)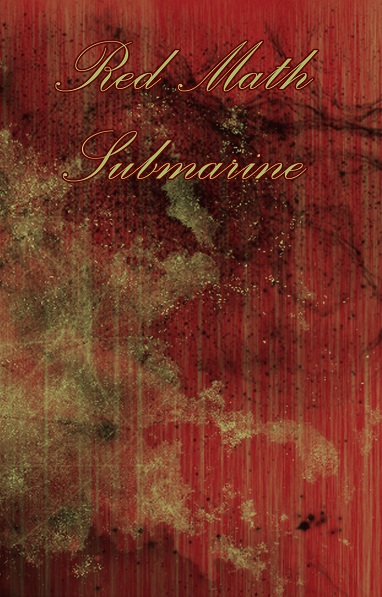 From the bowels of the deepest depths locked in a submarine, Lance Dibblee as Red Math (a Nashville-based producer with previous releases on labels like Digitalis or Further) delivers a harrowing journey of electronics at the brink. The album follows a submarine and the sonar acoustics that come with it detailing evasion, pursuit, attack, victory and return home. At times it sounds as if water is leaking in and the electronics are going haywire barely kept running by the frantic crew trying to survive the torpedo attacks and the tremendous pressure on the haul due to evasion depths.
Des entrailles abyssales d'un sous-marin en pleine activité, Lance Dibblee alias Red Math (musicien américain originaire de Nashville dont les précédentes productions sont sorties sur des labels comme Digitalis ou Further) nous embarque dans un voyage qui va mettre l'électronique de l'appareil à rude épreuve. L'album propose de suivre ce sous-marin et l'acoustique de son sonar lors de séquences d'évasion, de poursuite, d'attaque, de victoire et de retour à la base. Parfois l'eau coule sur les équipements et l'électronique devient folle malgré les efforts frénétiques de l'équipage qui tente de survivre à la fois aux torpilles et à l'éprouvante pression des grands fonds marins. Embarquement immédiat!
You can listen to the record right here // Ecoutez le disque ici:
Download available // Téléchargement disponible via Bandcamp
~~~~~~~~~~~~~~~~~~
CRU 007: Armure (CS 45)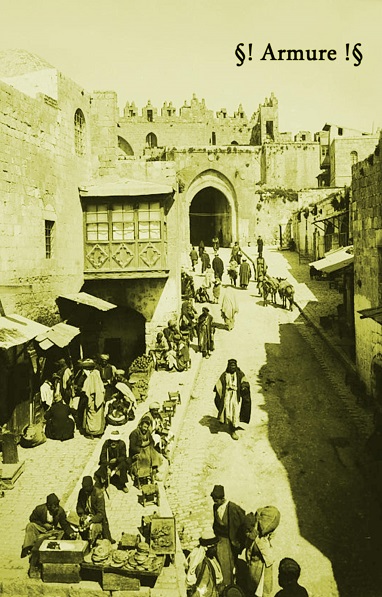 Armure is a Toulouse-based solo project by Tibo Padlock (Space Padlocks, Asphalt). Written and recorded over a few days during summer 2013 on a 8 track tape recorder, the eleven songs of this first album are not minimalist and lo-fi enough to hide a real songwriting talent. Cleverly mixing traditional instruments (bass, guitars, 12-strings, folk, melodica, tambourine...) with cheap synths and drum machines, Armure subtly find his way in a kaleidoscopic environment where one can meet The Seeds or C.Q-era Outsiders as well as Suicide, Cabaret Voltaire, The Glove and Joy Division. A stunning album with delicate night-time melodies that might end up being your new accomplices.
Armure est un projet du toulousain Tibo Padlock (Space Padlocks, Asphalt). Composé et enregistré sur quelques jours pendant l'été 2013 sur un 8 pistes à K7, les onze morceaux de ce premier album, aussi minimalistes et lo-fi qu'ils puissent être, permettent de découvrir les talents d'un vrai songwriter. Mélangeant habilement instruments traditionnels (basse et guitares mais aussi à l'occasion 12-cordes, folk, mélodica, tambourin, etc.) aux claviers et boîtes à rythme cheap, Armure se fraye subtilement un chemin dans un paysage kaléidoscopique où l'on croise autant les Seeds et les Outsiders (période C.Q) que Suicide, Cabaret Voltaire, The Glove et Joy Division. Un album étonnant dont les fines mélodies nocturnes deviendront peut-être vos complices.
"Voilà un disque bien étrange qui nous arrive de Toulouse. Derrière Armure on retrouve Tibo Padlock des Space Padlocks qui avaient sorti un très bon EP chez Close Up Records en 2012. Pour ce projet solo, le sieur Tibo offre un disque intrigant où se côtoie post punk minimaliste, rythmiques garage noyés dans des tonnes d'effets en tous genres et cold wave pour onze titres en mode lo-fi. Difficile de définir en quelques mots le cocktail improbable que nous sert Armure, le mieux est encore de l'écouter. Et croyez nous dans le genre c'est excellent !" - Raw Power Magazine
"On le sait bien, l'été c'est chiant! Il fait chaud, y'a des cons de touristes dans les rues...Mieux vaut s'enfermer et faire de la musique! C'est assurément ce que s'est dit Tibo Padlock (Space Padlocks, Asphalt, Dividers...) quand il a commencé à cogiter sur ce plan post-punk electro ambiant...Armure! Boîtes à rythme cheap, synthé, 12 cordes, percus, basse, il a tout concocté à la maison avec talent et savoir-faire, mélangeant allègrement les ingrédients issus du garage psyché américain, de la pop anglaise en passant par Joy Division, Chrome, le shoegaze ou White Fence (et y'en a d'autres). Frais, surprenant, inédit...Continue comme ça mon pote! " - Dig It!
"Armure. Oui, Armure. Le projet absolument génial, et je pèse mes mots, d'un homonyme, Tibo Padlock, déjà à l'œuvre au sein du groupe garage psyché The Space Padlocks et responsable en avril dernier d'une cassette éponyme sur SDZ Records. Seul, il s'émancipe d'un ferraillage en règle pour dépeindre une morosité blême, plus répandue dans les villes anglaises empilant les bâtiments aux briques rouges crasseuses que dans celle, au pied des Pyrénées, arborant fièrement ses découpes soigneuses de grès rose. Intemporel et blafard, enregistré sur un huit pistes rudimentaire, et faisant se côtoyer synthétiseurs, boîtes à rythmes et guitares tantôt graciles, tantôt souillées, on croit déceler, au loin, dans la brume de ces quelques morceaux aux relents grisâtres, les fantômes d'un Joy Division ayant viré Terry Mason ou d'un Suicide plus mélancolique que cheap. Mais finalement, ce ne sont pas ces réminiscences qui prédominent et donnent le la : le lyrisme brinquebalant d'Armure met impitoyablement Dirty Beaches à l'amende, chacun boxant dans cette même catégorie des crooners lo-fi, dressant un pont entre la rugosité de Dan Melchior - que l'on a pu croiser sur Sdz Records – et la subtilité mélodique des célestes Life of Angels de Gerald O'Connell (...) on recommande la triade Old Stories, We Can't Stay et Red Sea comme on glisse un vieux disque entre les mains d'un ami, avec la certitude de ne pas se gaufrer. " - Hartzine
"New wave, dark wave, post punk, folk, psych, lofi, bedroom pop. There's about a million genres I could throw out there to describe this album, but it's the truly great songwriting capabilities of Tibo Padlock, aka Armure, that will truly catch your attention. Recorded over just a few days in Toulouse, France during the summer of 2013 via 8-track tape recorder, this is an extremely rewarding album that will warrant repeated listens " - Ongakubaka
You can listen to the record right here // Ecoutez le disque ici:
Download available // Téléchargement disponible via Bandcamp