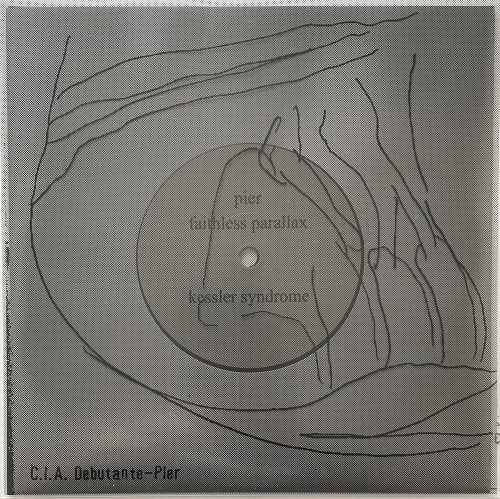 C.I.A Debutante "Pier" 7" (
Officine
/SDZ)
Out April 9, 2021 // Sortie le 9 Avril 2021
Commander le 45 tours
//
Order the single
Watch the video for the first single right here // Visionnez la vidéo pour le premier single ici:





Près de quatre ans après leur fameuse double K7 "
We will play for spirits
" sur
Crudités Tapes
, le duo CIA Debutante - formée par Paul Bonnet (Disposition Matrix) et Nathan Roche (
Le Villejuif Underground
) - rejoint la maison-mère pour un 45 tours.
Il y a un immeuble là-bas, il fait un angle droit. Je le regarde de chez moi, je le regarde de chez toi, je le regarde de chez eux. CIA Debutante cultive son brouillard cérébral depuis des années, en planque dans des endroits qui connaissent systématiquement des problèmes de connectivité. L'humour gris comme base de vie et la thérapie d'un chaos électronique artisanal, dont la nature reste à déterminer, comme couverture réfléchissante. Dans ce techno-cocon pas comme les autres tissé par Paul, Nathan développe les pensées-contre-cerveau, ses lobes sont comme des iguanes de compagnie surfant sur les vibrations essentielles de l'inutile. Les images sont là, celles d'innombrables organismes extrémophiles, celles de débris cosmiques fracturés, du plancher océanique qui se fissure, de la station internationale qui décroche, d'une instabilité générale qui se propage inlassablement comme le ver du diable dans les plus anciennes mines d'or. Perpétuellement joignable sur un numéro qui n'existe pas encore, le duo fait à nouveau des merveilles de mousse musicale stellaire, de celles qu'on ne peut faire qu'en risquant de tout perdre, tout de suite.
Rendez-vous dans le ciel, rendez-vous sur votre platine, sur la thématique "sorrows of life / joys of art".
Almost four years after their famous double K7 "We will play for spirits" on Crudités Tapes, the CIA Debutante duo - formed by Paul Bonnet (Disposition Matrix) and Nathan Roche (Le Villejuif Underground) - joins SDZ, the mother company, for a 45 rpm single.

There is a building over there, it makes a right angle. I watch it from my place, I watch it from your place, I watch it from theirs. CIA Debutante has been cultivating its brain fog for years, stashing away in places that consistently experience connectivity issues. Grey humor as a basis for life and the therapy of homemade electronic chaos, the nature of which is yet to be determined, as a reflective blanket. In this techno-cocoon like no other woven by Paul, Nathan develops thoughts-counter-brains, his lobes are like pet iguanas surfing on the essential vibrations of the useless. The images are there, those of countless extremophilic organisms, fractured cosmic debris, the ocean floor cracking, the international station stalling and a general instability that spreads tirelessly like the devil's worm in the oldest gold mines. Perpetually reachable on a number that doesn't exist yet, the duo is once again working wonders with stellar musical foam, the kind you can only do by risking losing everything, right away.

Rendez-vous in the sky, rendez-vous on your turntable, on the theme "sorrows of life / joys of art".
----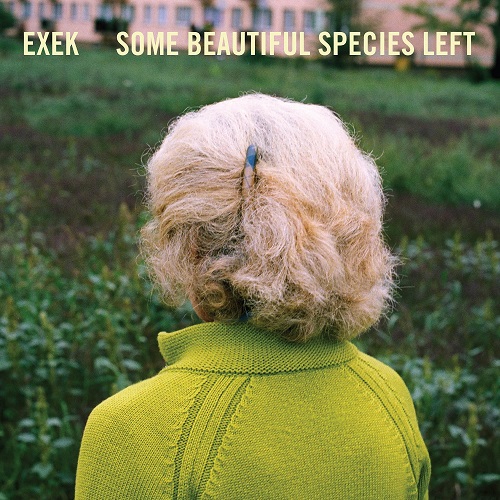 EXEK "Some Beautiful Species Left" LP (SDZ/Digital Regress/Anti-Fade)
Out September 6, 2019 // Sortie le 6 Septembre 2019
EUROPE
Order your copy here
//
Commandez votre exemplaire par ici

[dernières copies // very last copies]
USA/CANADA
Order here
AUSTRALIA
Order here
Watch the video for the first single right here // Visionnez la vidéo pour le premier single ici:







Originaire de Melbourne (Australie), EXEK présente son troisième album" Some Beautiful Species Left". Le disque sort le 6 Septembre sur SDZ (Europe), Digital Regress (USA) et Anti-Fade (Australie). Comme leurs disques précédents, "Some Beautiful Species Left" doit beaucoup à la philosophie de Brian Eno du studio comme instrument: il y a en effet une certaine culture du montage et des overdubs. Cette approche permet au songwriting de se développer en parallèle du procédé d'enregistrement tout en favorisant une plus grande maîtrise sonique. Post punk serait probablement une catégorie facile à apposer à leur musique. D'abord pour un certain côté post-moderne et ensuite pour la défiance inhérente au punk. Mais la musique d'EXEK contient aussi des éléments de production dub, des arrangements classiques, des rythmes hip-hop ou kraut-rock ou encore l'utilisation d'ustensiles de cuisine comme instruments. Le résultat est finalement un disque assez difficile à catégoriser, quelque part entre Swell Maps, This Heat et ESG.

Après une tournée réussie aux USA en 2018, EXEK a effectué une tournée européenne en Septembre 2019.

From Melbourne Australia, EXEK are proud to unveil their third album, "Some Beautiful Species Left". It will be released on September 6th on SDZ (Europe), Digital Regress (USA), and Anti-Fade (Aus). Like their previous releases, SBSL is the cultivation of numerous edits and overdubs, where once again EXEK subscribe to Brian Eno's philosophy of the studio as an instrument. This MO allows the songwriting process to develop simultaneously alongside the recording process, whilst privileging greater sonic control. Post punk is perhaps the easiest way to categorise the music. Firstly, because they're post modern, and secondly because their music contains the defiance inherent within punk. But EXEK's music also contain elements of dub production, Classical arrangements, hip hop and krautrock rhythms, and the use of kitchen appliances as instruments. The result is a record that is difficult to pigeon hole...somewhere between Swell Maps, This Heat and ESG.

After last year's successful tour of the US, EXEK embarked on their first European tour in September 2019.





Interview in
The Big Take Over



"their hazy, dubby post-punk is tops!" -
Yellow Green Red




"Orstralian post-punk drone trip that feels like a slowed-down THIS HEAT nitemare with occasional FRIPP guitars and dubbed-out sorta POP GROUP incantations. A modern throwback to sounds made in another neocon fascist era, ominous horror is ours forever and here is the soundtrack… It's bleak, dense, and not comfortable. This is obviously a great record, but I can't decide if this paranoia sound is what I want right now, though." -
MaximumRockNRoll




"Melbourne, AUS five-piece EXEK released their latest long-player, Some Beautiful Species Left, last month. A follow up to last year's double, A Casual Assembly and Ahead of Two Thoughts, the album finds the band further fine-tuning their kitchen sink production approach (the promo for the album mentions use of kitchen appliances in the recording, so I couldn't resist) – and the results are phenomenal.

"Hobbyist" opens the proceedings along a discordant whine that sounds produced by something hand-cranked, unfurling into a full-on motorik headbuzz. Amidst the din, vocalist and multi-instrumentalist Albert Wolski teasingly invites the listener to 'go on/have a second guess', like a spaced out Mark E. Smith fronting Clinic. It's a fittingly bewildering start to a record that's equal turns arresting, unsettling, chaotic, caustically hilarious and inspiring. Strings, horns, guitars, bass, drums, and persistent echo chambah effects swirl into a musical trail mix including dub, abrasive post-punk (pre-Brix The Fall, Wire, Metal Box-era PiL), jazz, and Syd-led Floyd experimentalism.

Highlights are many: the jittery dub of "Lobbyist"; the intriguing guitar/vibraphone (I think?) interplay on "Plastic Sword Retractable"; "Iron Efficiency"'s rugged narco-psych; the lightheaded, infectious melody of "Unetiquetted". Instruments traditional and non- at times sound as if they're being played forwards and backward simultaneously, Wolski's gnomic sing-chant recalling bits of the aforementioned Barrett and Smith, Robyn Hitchcock and Jah Wobble in tone.

The magic of Some Beautiful Species Left lies in how it all hangs together – even for a listener who maybe has a more punk-inclined/birdlike musical attention span (cough). Veering from sprawling to terse, short blasts, the album's eight tracks go in many directions. But for all the experimentalism on display, EXEK's jammier tendencies enthrall rather than disappear too far into the navel. Perhaps a cheeky reference can be found in closer, "How the Curve Helps" (at 8:11, the longest track on the album), Wolski intoning 'about an hour ago/I should have left'. We're good to hang out longer.

Some Beautiful Species Left is out now, courtesy of the good folks at SDZ (Europe/Africa), Anti-Fade (AUS/Asia) and Digital Regress (North America)." -
The Grinding Halt



"J'ai bien pris soin de mettre un peu de côté Some Beautiful Species Left, le troisième album des australiens de EXEK. Ce qui ne signifie pas que jusqu'ici je ne l'ai presque jamais écouté, bien au contraire. Mais le concert du groupe auquel j'ai pu assister en septembre dernier m'ayant particulièrement emballé et ravi, j'ai préféré, au moins pour une certaine période, séparer les deux : d'un côté ce fameux concert et de l'autre le disque. Le temps que les souvenirs fassent leur travail de sape et de reconstruction ; le temps aussi de laisser à cet enregistrement une chance supplémentaire de vivre par lui-même et uniquement par lui même.

C'est que Some Beautiful Species Left est un album déconcertant. Et pas seulement lorsqu'on a pu avoir la chance de voir le groupe sur scène, un groupe défendant presque avec acharnement une musique très rythmique, traversée de lignes de basse dub et de plans de guitare qui cisaillent les oreilles, une musique qui donne malgré tout envie de danser comme un réfrigérateur rescapé des eighties – ma grande spécialité – tout en incitant à mettre les doigts dans une prise électrique. Le nom est lâché, Exek est l'un des meilleurs représentants actuels du post punk, piochant allégrement dans ce que pouvait offrir à la fin des années 70 et début des années 80 des formations aujourd'hui légendaires et incontournables telles que PiL (pour les lignes de basse aquatiques et les guitares mi aigrelettes mi métalliques), A Certain Ratio (pour le groove robotique et la distanciation) et même The Fall (pour la morgue et l'arrogance électrique). Je le vends bien, non ?

Some Beautiful Species Left reprend en partie tous ces éléments mais différemment. Parce que visiblement Exek et son général en chef Albert Wolski – chant, guitare, basse, piano, violon, percussions et production, oui rien que ça – veulent absolument faire la différence. En concert le groupe défouraille. En studio, il expérimente et il s'amuse – enfin, façon de parler puisque la musique d'Exek ressemble beaucoup à un bac à glaçons fabriqués à base de lave-glaces frelaté. Cette différenciation / partition me rappelle celle (attention il s'agit d'une comparaison extrêmement osée) d'un Joy Division rendu méconnaissable en studio par le travail de production d'un Martin Hannett complètement obnubilé par sa maniaquerie et des idées bien arrêtées en matière de son. Sauf que, encore une fois, dans le cas d'Exek la métamorphose est volontaire et assumée et non pas partiellement subie comme ce fut le cas autrefois pour les mancuniens.
Some Beautiful Species Left est un album étrange et fantomatique. Parfois informe, flou et décharné tant la musique qui y est enregistrée semble provenir de nulle part, comme si par on ne sait quel miracle elle traversait murs, sol et plafond pour parvenir jusqu'à nous. Ce n'est pas qu'une question de brouillard gazeux et de vapeurs d'azote liquide, mais la sensation de se retrouver entouré, encerclé, par des formes musicales qui échappent à notre perception directe et notre compréhension immédiate. Si Exek était une espèce d'alien, ce serait un alien subtilement magmatique et diaphane que l'on aurait malgré tout du mal à comparer à un ectoplasme. Ce serait plutôt une sorte de présence, bien réelle s'il en est, puisque capable de projeter son ombre vampirique sur nous ou même de nous masquer notre propre reflet dans un miroir (l'effet Horla, en quelque sorte).

Les déchirements de guitares se muent en barrissements hypnotiques, la batterie cliquette comme des gouttes d'eau tombant sur une bâche en plastique, la basse prend le large, le synthétiseur plonge dans l'acide et le chant un peu nasillard psalmodie avec tout le détachement nécessaire. Some Beautiful Species Left ne tombe pas pour autant dans le piège de la mélancolie plastifiée ou dans celui de l'enfermement réfrigéré et malaisant : Exek préfère le déphasement, muant son post punk/neo kraut/whatever en objet durablement fugitif mais ô combien captivant pour qui sait se laisser ensorceler par son étrange magie électrique. Some Beautiful Species Left est tout simplement l'un de mes disques préférés de l'année 2019."-
Instant Bullshit



"...first single "Unetiquetted" is among the poppier things EXEK have ever done, which is to say…still not that poppy! But it's not a bleak dirge, either; instead, sort of dark alien synthpop not too far removed from Bowie's Berlin period or what Eno was doing around the same time. Perfect for dancing or curling up in a ball in the corner, depending on your mood." - Brooklyn Vegan


"The first track from the record, 'Unetiquetted', reprises recent themes explored by Wolski & co as well as longstanding touchstones. Referencing near futures and resembling a tightly conducted kraut-psychedelia that evokes a particularly spun-out and lowriding Michael Rother production, as well as some of the more strikingly bizarre moments of General Strike's 'Danger In Paradise', this is one to rinse endlessly. An impressive foretaste from a record that, in these parts, comes highly recommended" - The Ransom Note


"The slinking "Unetiquetted" finds the band haunting the halls of a greasier vision of post-punk — dark, damaged, but still riding a groove that's hard to ignore. The track is shrouded in a detached debauchery, exhaling cold confidence and oozing bile. The accompanying video in turn looks like staging a freaky dance party in the post-credits of '90 first person players like DOOM. It's a hypnotic pairing with the band's strange magic." - Raven Sings The Blues


"Some Beautiful Species Left ira prolonger les heures de gloire d'Ahead Of Two Thoughts. EXEK en rajoute une couche avec « Unetiquetted » ainsi qu'avec la conclusion de 8 minutes bien audacieuse intitulée « How The Curve Helps » qui retient particulièrement notre attention" - Les Oreilles Curieuses


"...la musique d'EXEK déroute, dérange et hypnotise dans les traces de Swell Maps ou de This Heat, où les collages soniques ont une place prépondérante, embarquant l'auditeur dans milles directions à la fois.
Dans la continuité de Biased Advice et Ahead Of Two Thoughts, Some Beautiful Species empile les univers et trace sa voie entre krautrock et dub, soutenue par la voix « brianenoesque » de Wolski.
Une impressionnante combinaison basse/batterie donne le ton et leur permet de laisser cour à leurs expérimentations tels des laborantins en folie, sans nuire aux mélodies finement entêtantes.
EXEK nous offre là un nouveau passionnant disque !" - Addict Culture


"Some Beautiful Species Left est infiniment étrange. De prime abord, on n'y comprend rien. C'est tout à la fois très flou et structuré. Les morceaux commencent on ne sait trop comment et s'achèvent dans le brouillard. Les lignes de basse sont solides mais ferraillent avec des claviers en roue libre. La guitare est fantomatique mais aussi déterminante. Parfois, c'est drastiquement lugubre (Some Background) et à d'autres moments, on se croirait sous une boule disco dégénérée reflétant les photons au petit bonheur la chance (Unetiquetted).
C'est bien noir.
C'est très éclatant.
C'est vif souvent mais patraque tout le temps.
EXEK met sur pied un drôle de truc qui renvoie toujours autant à PIL mais se rapproche aussi de (feu ?) Girls Pissing On Girls Pissing voire de RAKTA sans les soubassements sauvages des premières ni le côté ritualiste des secondes. Pour le reste, on est à peu près au même niveau de bizarrerie mais celle d'EXEK se situe surtout au niveau du son. Modelé, ciselé, trituré, chargé d'écho, il forme une gangue malléable et indéterminée d'où s'extirpent les morceaux.
Ça commence par les sept minutes et quelques d'Hobbyist et on comprend d'emblée que rien ne sera simple : des coups de violon entaillent l'espace, la voix débarque – lointaine – et la basse bégaie. En-dessous, les nappes s'épaississent petit à petit. EXEK suit un chemin pas vraiment droit mais vraiment flou, cérébral et perché. Juste après, Lobbyist sonne drastiquement post-punk mais ça ne dure qu'un temps, très vite le morceau se délite et s'en va explorer des voies autrement expérimentales amalgamant une multitude de sons (trompette, piano, bruits divers, …). Deux titres seulement mais déjà de multiples facettes. Un pied dans la tradition et l'autre qui s'évade.
Some Beautiful Species Left touche ainsi autant au post-punk qu'au dub, à l'avant-rock qu'au breakbeat, au kraut qu'à l'expérimental et malgré ses éléments pour le moins disparates, il n'apparaît jamais comme un patchwork épars et sans cohérence.
C'est qu'il s'agit déjà de leur troisième album (après Biased Advice en 2016 et Ahead Of Two Thoughts en 2018) et qu'EXEK a creusé son crédo. Tout ce que l'on entend ici était déjà en germe dans les précédents et pourtant Some Beautiful Species Left déstabilise comme aux premiers jours. Il faut un temps d'acclimatation – les morceaux ne se révèlent pas immédiatement – et accepter les errances, le tarabiscoté, la mise au point permanente entre le très net et le très flou. Et alors qu'il décontenance, petit à petit, via sa construction au cordeau, il se révèle et fait son trou.
Lobbyist, le chouette Plastic's Sword Retractable au mitan du disque ou encore How The Curve Helps, tous tendus et de guingois, alternant entre vraie noirceur et passages plus solaires se montrent certes retors mais encore plus attirants. Et c'est exactement la même chose pour tout ce qui les entoure. Indéterminé et fantomatique, Some Beautiful Species Left cache en fait un vrai talent d'écriture qui amalgame le goût pour l'exploration bien perchée et l'amour de la mélodie déviante. La torpeur n'est ainsi qu'apparente, une multitude de choses se passent en sous-main et finissent par atteindre la surface, structurant l'informe et remplissant les vides : au final, tous les morceaux montre une belle densité.
Cette fois-ci un chouïa plus expérimental que post-punk, il n'en reste pas moins que l'on retrouve dans le disque tout ce qui fait la singularité des Australiens : EXEK reste EXEK. Son dub de plus en plus nébuleux mais toujours drastiquement taré, sa guitare qui ressuscite l'air de rien celle de John McGeoch, sa basse mortifère aux lignes recherchées et sa façon d'introduire là-dedans de l'inattendu (des ustensiles de cuisine, des voix captées à la volée, la spatialisation du son, …) font feu de tout bois et in fine hypnotisent. Ce n'est donc toujours pas avec celui-ci qu'Albert Wolski et ses sbires frôleront l'anecdotique.
Excellent." - Des Cendres à la cave

"'Unetiquetted' brings together some of the errant threads casually spun on A Casual Assembly, weaving them into an understated-but-engrossing track that shuffles askant like a malnourished skin-and-bone marionette-like figure. That's not to say the song sounds thin and poorly wrought (none of EKEK's tracks ever do) – more that it makes the most out of a limited sonic palette. A springy bass and bip-bip-bap drum beat set the foundations, while a spooky and floaty synth pulse hazily illuminates all. Unlike A Casual Assembly, Albert reins in his stream-of-consciousness prose into more of a sing-song vocal accompaniment. EXEK is a band that rewards repeat listening – ideas are more firmly grasped and nuances acknowledged when given time to ponder." - Weirdo Wasteland



----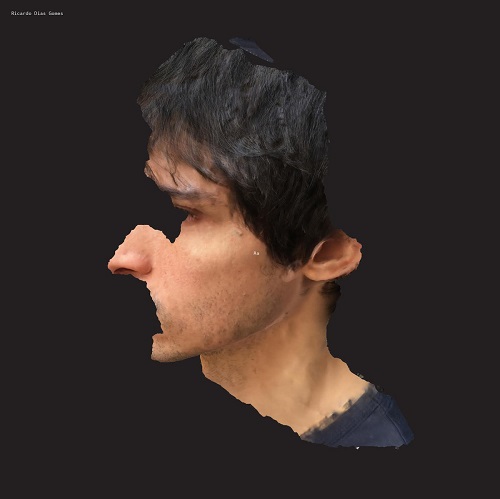 Ricardo Dias Gomes "Aa" mini LP (
SDZ
/
Kill Shaman Records
)
Last copies! // Derniers exemplaires!
[Release date: September 14, 2018]
Order your copy on Bandcamp
! //
Commandez votre exemplaire
(Bandcamp)!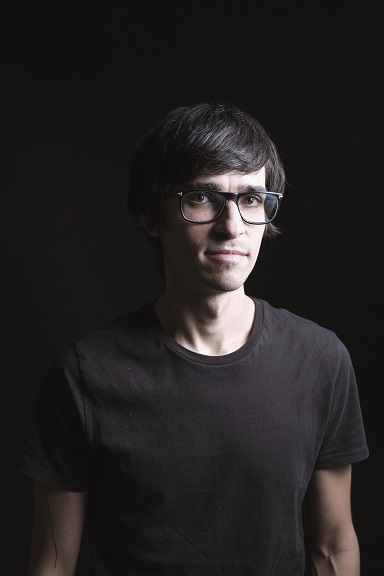 "
Between the snake's belly and the ground, between the closing door and the fleeing finger, between the end of the day and the fall of the night: there is the music of Ricardo Dias Gomes
" - Arto Lindsay
Expérimentateur respecté de la scène musicale de Rio de Janeiro depuis le milieu des années 90, Ricardo Dias Gomes est principalement connu pour son travail sur trois albums de Caetano Veloso acclamés par la critique à la fin des années 2000: Cê (2006), Zii and Zie (2009) et Abraçaço (2012).Bassiste sur ces trois étonnants opus post-Tropicalia et sur les tournées mondiales qui les accompagnèrent, Gomes s'en est inspiré pour se lancer dans l'enregistrement d'un premier album solo, -11, sorti en 2015. Sur -11 Gomes a joué tous les instruments et s'est appuyé uniquement sur son instinct pour trouver une direction musicale: le magazine anglais The Wire souligna la qualité de l'album qui "n'est pas s'en rappeler d'autres débuts solo rugueux et personnels comme ceux de Laetitia Sadier ou Money Mark" et le Chicago Reader succomba à l'étrangeté du disque qui "alterne entre de tendres ballades introspectives, d'abrupte grooves électroniques et une ambiance dissonante". Gomes vit désormais à Lisbonne et sort donc ce deuxième album - tout aussi fascinant que le premier et qui comprend notamment une participation d'Arto Lindsay - via SDZ Records et Kill Shaman.
A respected innovator on the Rio de Janeiro music scene since the mid 90s, Gomes is best known for his work on the trio of critically-acclaimed albums Caetano Veloso released in the late 00s: Cê (2006), Zii and Zie (2009) and Abraçaço (2012). Playing bass on these modern milestones in post-Tropicalia, and subsequently touring the world with Veloso, inspired Gomes to record his debut album -11, released in 2015. On -11 Gomes played all the instruments himself and relied solely on his instincts in terms of the direction to take: The Wire praised the album saying it "recalls other rough and ready highly personal solo debut albums by Laetitia Sadier and Money Mark" whilst the Chicago Reader fell for it's "weirdly hermetic sound world, alternating between tender, introspective ballads, rude electronic grooves, and dissonant ambience".Gomes now lives in Lisbon and this new mini-album Aa – featuring Arto Lindsay – is released via SDZ records in Europe and Kill Shaman in North America.
All tracks written, produced and performed by Ricardo Dias Gomes
Mixed by Igor Ferreira
Summing by Leo Moreira at Monoaural estudios (Harrisson MR-4)
Mastered by Martin Scian
Images by Quinta-feira
Featuring:
Vodka the Duck in Precipício
Moreno Veloso in Tela Parada
Arto Lindsay in Fogo Chama
Pedro Sa and Pedro Richaid in Paranormal
Joana Queiroz in 1 2 3 Nenéns
"
Collaborateur de Caetano Veloso, le bassiste carioca emmène la musica popular brasileira vers des territoires expérimentaux, bourdonnants, à la beauté insoupçonnée.

On entend beaucoup de fréquences basses dans la musique du Carioca Ricardo Dias Gomes. Piano électrique, basse, fréquences synthétiques, vents ou voix – la sienne, qu'il n'a pas tout à fait de stentor mais pas loin –, tout est bon pour tapisser l'oreille de vibrations. Il n'est d'ailleurs pas absurde de conjecturer que cette inclination esthétique est liée à son activité de bassiste, qu'il pratique notamment au sein du groupe indie pop Do Amor ou aux côtés du géant Caetano Veloso, qu'il accompagne sur disques et sur scènes depuis une douzaine d'années.

Mais à se plonger dans les eaux troubles de -11, son premier album paru en 2015 (remarqué internationalement grâce au magazine britannique The Wire) ou les boues brûlantes de son nouveau Aa à sortir en septembre chez SDZ / Kill Shaman, on reconnaît surtout qu'il est un musicien expérimental au sens le plus noble et profond du terme, c'est-à-dire qui cherche en permanence des formes nouvelles par lesquelles exprimer ses mélodies et sa créativité.

Pour des raisons qui ont sans doute à voir avec l'effet qu'ils provoquent sur l'esprit de l'auditeur quand ils lui sont délivrés en impulsions fréquentes ou bourdons continus, Ricardo Dias Gomes se love dans les sons graves tel le plus dévoué des artisans de la musique industrielle de ces trente dernières années… Sans abandonner une seconde l'art de la chanson, dont on perçoit que c'est la première de ses préoccupations.

Quelque part entre le Veloso expérimentateur d'Araçá Azul ou Livro, Arto Lindsay (qui participe au disque), Scott Walker ou Mark Hollis, le Brésilien ne fait ni du rock, ni de l'ambient, ni de la musica popular brasileira, mais un peu tout ça à la fois. Aa nous balade au-dessus d'un gouffre que le bien-titré Precipício, qui sert d'ouverture à l'album et dont Libé vous propose de découvrir ci-dessous le clip sombrement chorégraphié, propose d'ausculter en frémissant d'effroi et de désir, avant de plonger.
" -
Libération
"La fin du monde est proche. Suffisamment pour qu'on commence à s'inquiéter de la bande originale qui accompagnera cet instant historique. Inutile de chercher plus longtemps, les tarés de SDZ records viennent de lâcher cette bombe à neutrons sur le net. Assis toi sur ta chaise électrique, prends un doliprane 1000, et danse en slow-motion.
" -
Noisey
""Bassiste sur trois albums de Caetano Veloso, entre 2006 et 2012, Ricardo Dias Gomes est un artiste qui a su développer un style bien à lui sur ses albums solo, cherchant à construire des ambiances étranges et envoutantes qui semblent prêtes à s'effondrer pour laisser place à des jungles mélodiques profondes.

Aa est un opus qui balance ses atmosphères entre fragilité et rudesse, minimalisme et complexité expérimentale, déconstruisant en permanence ce qu'il semble mettre sur pied, à coups de boucles répétitives, chansons aux grincements noise, dérapages punk, post-cold wave vaporeuse, folk astrale… Tout semble prêt à disparaitre dans son propre monde, auto-absorbé par une fragilité qui se débat pour sortir la tête de l'eau et se hisser sur les sommets de montagne au bord du précipice.

Ricardo Dias Gomes subjugue de par sa manière d'aborder la musique, journal de bord d'instants fugaces pris entre les notes et les rythmes pour bifurquer vers des espaces aux frontières effacées. 8 titres à la beauté éphémère qui prennent le temps de s'effacer, pour laisser place aux émotions de nous transpercer et de nous chambouler. Superbe." -
Silenceandsound
"
Ricardo Dias Gomes succeeded in recording an EP that mixes the sounds of Brazil with more experimental elements. The resulting album is a pleasure to listen to and one that leaves the listener feeling that not much time has passed by, which is always a great sign for a record
" -
I Heart Noise
"
He moves from the thudding low-end grime of the opener "Precípio," where Gomes intones ominous-sounding spoken word over stuttering kicks, squelchly electronic smears, and wind tunnel hums, into "Tela Parada," another electro-spasm where beats and synthetic bass tones collide with his spoken voice and noises that suggest he was using a contact mike on some object dragged around his studio--but then a groove kicks in halfway through. A number of guest musicians including Caetano's son Moreno, Arto Lindsay, and Pedro Sá--the brilliant guitarist who plays alongside Gomes in Veloso's rock band--help out here and there, but the bassist is responsible for most of the sounds.

On "Fogo Chama" he invokes a sweetly psychedelic melody with twinkling keyboard lines, but it's interrupted by ungodly electric bass spasms that suggest thunderclaps sneaking up on an idyllic day in the park. There's a bruising post-punk vibe on "Paranormal," where the expected hardcore explosion from his descending bass line erupts first with a brief drum blast and later a wash of fuzzed-out feedback, but the resolution is denied. As much as I love those more austere excursions into sonic extremes, I'm most fond of Gomes' lyric side, something stunningly displayed on "1 2 3 Nenéns," where clarinetist Joana Querioz plays delicate overdubbed unison lines with his ambling acoustic guitar part.
" -
Peter Margasak
"
music that fills your soul and turns it inside out, spilling some sort of eternal light
" -
RVNG Intl
"
As "Aa" comes to a close I feel content, a sense of being complete that I rarely feel from music or really anything in life.
" -
Raised By Gypsies
"
For a decade Ricardo Dias Gomes recorded and toured with Brazilian maestro Caetano Veloso, playing bass and keyboard in his Banda Cê. Gomes also has an impeccable family lineage in Brazilian music: to give one example, his uncle played drums for the mighty Hermeto Pascoal. Now in his thirties, Gomes seems to have borrowed Veloso's intimate approach for his experimental update on Brazilian sounds. His debut, 2015's -11, was a stripped down but colourful mingling of close focus ballads and dissonance that conducted us right inside Gomes's head. Aa is his follow-up, eight brief tracks, and much of the time it's just a rich bass, a dash of electric piano and Gomes muttering or singing into your ear. But somehow there's still a wide range on display. "Paranormal" starts with simply urgent bass guitar, but it's a perfect bass sound and the voice rolls around in reverb. Suddenly Banda Cê bandmate Pedro Sa is spraying crazy guitar on the walls, and we've covered a lot of ground, though the track lasts barely three minutes.
Talking of guitar craziness, Arto Lindsay is also in the room. On "Fogo Chama" ("Fire Flame") Lindsay's guitar contributes splashes of junkyard colour to what is otherwise a sweet song. Lindsay's influence on Aa is not obvious - he doesn't take a producer credit - but in Gomes's word, "He helped me realise that most importantly of all music needs to be honest". Other musicians stop by the studio: Veloso's son Moreno adds a stew of human percussion to the otherwise electronic "Tela Parada" ("Stop Screen"). This is an exquisitely produced three minute track that might easily have doubled its length. Best of all are Joana Queiroz's clarinets on "1 2 3 Nenéns", draped sensuously across acoustic guitar. This is a lovely song, and the commercial temptation for Gomes must be simply to make a whole album like that.
Such moments are thin on ground: Aa is less song orientated and perhaps less fun that -11. But full credit to Gomes for sticking to his vision and creating an honest, intensely personal album
" -
Clive Bell / The Wire Magazine
"
Rhythms shadowed in decaying genres, sparse sounds barely illuminated by radiant creativity. Like motionless snakes heating on sun drenched surfaces, slithering away when sensing presence. Aa lays still, a resting body in tranquilized stasis. Consciousness tuning in, patient sonic muscles begin constriction. Ricardo Dias Gomes waits.... his composition heated perfectly.

Common aural ingredients applied with intuition rather than recipe. Eight tracks in a relatively short amount of time, close to twenty minutes. Ricardo Dias Gomes features six guests artist on Aa. This influence ultimately nudges diversity into the composition. Using distant decades to lasso Aa with some comparative measure, an amalgamate of Cabaret Voltaire and Sleep Chamber. A rhythmic seriousness bringing a maze of catacombs to the spirit. Paths splintered by pressing vocals, disorienting bass and electronic shrapnel. Heaviness balanced by the third track Fogo Chama and the seventh track 1 2 3 Nenéns. Warm and gentle respites in the pulse like suspenseful cadence of the other tracks. Ricardo Dias Gomes treats details like sonic gemstones, the dark crystalline notes painstakingly kept polished. This aspect is unique, since ponderous tones often sway towards distortion. Very little if any on Aa, making this composition an easy listen, again and again.
" -
Lost in a sea of sound
"
It begins like you're in the guts of a pumping station, the rhythmic low pulse of machinery redirecting waste- and floodwater through an infrastructural maze of pipes and channels, aqueducts and canals. The subterranean industrialness of it lends a sort of dank eeriness to it, as sounds drip, skitter, and ping around corners and in unseen alcoves. A voice intones in words you (read: I) cannot understand.

Total movement. Ricardo Dias Gomes surfaces from opener "Precipício" to hurtle through boroughs unexplored, avenues of personal intrigue and design on Aa. His collaborators on the record — Moreno Veloso, Pedro Sá, and, particularly, Arto Lindsay — allow Gomes to expand his palette and dig even deeper into his own psyche, creating mental openings invisible to the solo artist. Gomes hurtles headlong through these openings and into fantasylands of weirdness and disquiet, always willing to shine his creative flashlight into a new corner of inspiration.

And other such silly metaphors.

To throw a blanket description like "minimalist post-punk" over Aa would be reductive, simplifying the record with an unimaginative cliché. But that doesn't mean it isn't a good starting point, so I'm gonna do it anyway. Gomes shifts easily from bass-heavy electroclash to collagist lullabies without thinking too hard about it, blending the disparate parts of his personality into a full picture of unexpected clarity. That's what's so engaging about Aa — we get "The Many Moods of Ricardo Dias Gomes" but in the abstract, a whole comprising strangely fitting elements that we all relate to but may not have experienced in quite this way before.
" -
Tiny Mix Tapes
"
Lullaby for the Synthetic Class

Ricard Dias Gomes' Fogo Chama is a calm song. Not in the way 20JFG might introduce a calm song and when you click the triangle it's actually waves of noise, and the calmness that you feel is in your own obliteration. No this is the real deal. Almost a lullaby.

It's repeated central refrain, as hushed and urgent as it is, is reassuringly calming. But as the world enters its endless summer, as temperatures and tempers soar, calm feels like a transgressive act.

Which is perhaps not even the most interesting thing about Fogo Chama. That comes courtesy of the part that isn't calm. Isolated among a sea of delicately chosen sound, noise. A moment of Branca-esque discordant guitar amongst the stilly syntetic sea. Like an island of reality on the endless sea of Solaris. The imperfect earthly world, willed into being.
" -
20 Jazz Funk Greats
----
~~~~~~~~~~~~~~~~~~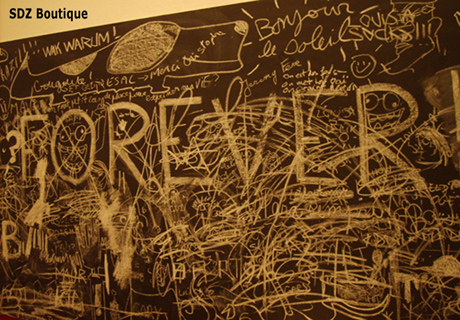 ~~~~~~~~~~~~~~~~~~

Don't forget to check out our Distro !! / / N'oubliez pas de checker notre Distro !!

~~~~~~~~~~~~~~~~~~
PREVIOUS RELEASES ON SDZ RECORDS (SOLD OUT)
Les Vipères § The D4 § Anteenagers M.C § The Rebel § Cheveu § Plastobeton § V/A Flottante tension d'eclipse § Les Bellas § The Mantles § The Limiñanas § Dan Melchior § Drosofile § Vince & His Lost Delegation § Èlg § Old Mate § V/A Quadrature du carré § Le Villejuif Underground § Pierre & Bastien
§ Rose Mercie

~~~~~~~~~~~~~~~~~~
PREVIOUS RELEASES ON CRUDITES TAPES (SOLD OUT)
§ V/A Tartare de subconscient infini §
§ V/A Marécages Restauration §
§ Ilth Zongz §
§ The Spectrometers §
§ V/A Réviviscence Ectoplasmique §
§ Red Math §
§ Armure §

§ Space Blue §

§ The Dictaphone §

§ V/A Tendres Ténèbres §

§ Mulan Serrico §
§ Mattin §

§ C.I.A Debutante §
~~~~~~~~~~~~~~~~~~