DISPO LE 8 SEPTEMBRE!!! OUT SEPTEMBER 8 !!!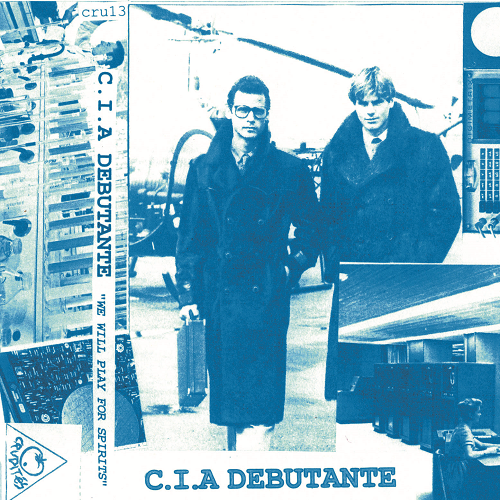 C.I.A Debutante "We Will play for spirits" CS45 x 2 (
Crudités
/SDZ)
Recorded May 1st 2017 at the Auber Mansion by Benoit Villeneuve/Doucement
Art by Eden Spetsnaz Editions and some Bapt Windrunner Dope Database
Special thanks to Michel Wisniewski
C.I.A Debutante est un duo formé par Paul Bonnet (Disposition Matrix, The Nightclub Toilet) et Nathan Roche (Le Villejuif Underground). Créé l'an dernier, le groupe a déjà à son actif une demi-
douzaine de cassettes sur des labels comme Officine, Tanzprocesz ou Royal Sperm. "We will play for spirits", leur nouveau double album sur Crudités Tapes/SDZ va vous transporter à 10 000 au dessus des océans, dans un radeau de fortune malmené par les vents, à moins que ce ne soit tout simplement le mauvais oeil. Librement inspiré d'un crash aérien, ces 18 morceaux cryptiques forment une mixture incongrue entre l'électronique vintage d'un pilote autodidacte, possiblement kamikaze, et le
spoken word
d'un enquêteur un peu déviant aux théories houblonneuses. Géomètre des
chemtrails
, passionné des carrousels à bagages et des signaux lumineux qui ne mènent pas à une issue de secours, C.I.A Debutante se fraye un chemin dans les interlignes des rapports officiels et actionne ses visions en plein ciel comme le long de longues plages abandonnées où, en courant un peu vite au bon endroit, il y a toujours moyen de trouver des débris d'avions. Dans les sous-sols d'un large bâtiment du tout puissant complexe militaro-industriel on écoute déjà cette double-cassette avec une attention fébrile.
C.I.A Debutante is a duo formed by Paul Bonnet (Disposition Matrix, The Nightclub Toilet) and Nathan Roche (Le Villejuif Underground). Created last year, the band has already released half a dozen tapes on labels such as Officine, Tanzprocesz or Royal Sperm. "We will play for spirits", their new double album on Crudités Tapes/SDZ will transport you to 10 000 ft over the oceans, in a raft of fortune mauled by the winds, unless it is simply the evil eye. Loosely inspired by an air crash, these 18 cryptic tracks form an incongruous mixture between the vintage electronics of a self-taught pilot, possibly a kamikaze, and the spoken word of a little deviant investigator, kean on hop-flavored theories. Chemtrails geometricians, luggages carousel enthusiasts and fond of light signals that do not lead to an emergency exit, C.I.A Debutante makes its way through the lines of official reports and operate its own visions both in the sky and along abandoned beaches where, by running a little fast in the right direction there is always a plane debris waiting for you. In the basement of a large building owned by the military-industrial complex, experts are already listening to
this double-cassette with a febrile attention.


"Formé par Paul Bonnet (Disposition Matrix, The Nightclub Toilet) et Nathan Roche (Le Villejuif Underground) C.I.A. Debutante offre un premier album étrange et envoutant, construit autour de
sonorités spatiales et de bidouillages en tous genres.

We Will Play For Spirits
est un aller sans retour vers une planète interdite, de laquelle on n'échappe pas forcément vivant, à moins de savoir naviguer entre les interférences et les vocaux parlers
qui parasitent l'ensemble constamment. Les 18 titres qui composent l'album, ne sont pas sans évoquer certains travaux de Martin Rev (moitié de Suicide), Cabaret Voltaire ou Throbbing Gristle entre
plongées expérimentales et éléments post-rock recouverts de poussière radio-active, électronique déglinguée et dérapages cryptaux.
Le duo se délecte à créer des atmosphères tendues, où les rythmiques forment un tapis sur lequel glisse les éléments autour. Le psychédélisme est aussi de la partie, de par cette volonté farouche
de distordre les sons et les exploser en kaléidoscopes vibrants, bâtis à coups de machines usées et de synthés épuisés jusqu'à la moelle. Le plus étonnant reste la faculté de C.I.A. Debutante de ne
jamais agresser nos tympans, tant leur musique déploie un arsenal de mélodies sous jacentes à la douceur ambient flottant dans un espace à l'énergie électrique vibrante. Très fortement recommandé." - Silenceandsound

"will likely scratch the inch for those with an interest in, say, early industrial music, library music, The Shadow Ring, and spy films. A solid release." - FreeFormFreakout


"Like painting over a canvas so many times that the paint peels and cracks in places, while retaining a shadow of the original image beneath, 'We will play for spirits' is densely layered and
mysterious. On 'Phonetapping' and 'Forty-eight dollars a night neon', delicate synths and miniature drum machine cymbals are penetrated by crushing vocals and screaming frequencies swathed in
distortion. Loosely inspired by an "air crash," each song seems guided by the harmony of alien lifeforms. A harmony disturbed by an unfamiliar relic - a muffled human voice captured on chewed up
tape-loop. One could listen for eternity and never unravel the code.." - Critic

ECOUTE ET ACHAT SUR BANDCAMP / LISTEN AND BUY ON OUR BANDCAMP:

----

MAINTENANT DISPO!!! OUT NOW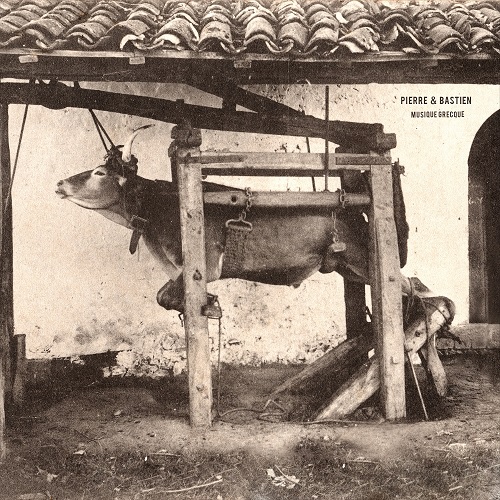 Pierre & Bastien "Musique grecque" LP (SDZ 021)

Sorti le 20 Janvier 2017 // Original release date Jan 20, 2017

Deuxième tirage disponible depuis le 12 Mai 2017
Second pressing now available (since May 12, 2017)

Order the record // Commander le disque


Sorti en Avril 2010, quelques mois après le premier single du groupe ("No Sex" / "Crise boursière"), le morceau "RMI" présent sur la compilation "Flottante tension d'éclipse" constituait le premier
soutien officiel du label SDZ au groupe Pierre & Bastien. Suivront le morceau "Démocratie" sur la compilation cassette "Reviviscence Ectoplasmique" et "Déglingo" sur la compilation vinyle
"Quadrature du carré". Malgré toute l'affection que nous portons à la compilation - genre qui n'en est pas un et qui est, en plus, décrié - c'est aujourd'hui à travers la sortie d'un album, intitulé "Musique grecque" que le label SDZ soutient à niveau Pierre & Bastien.

Ce troisième album studio du groupe parisien est d'une construction aussi maîtrisée que les deux précédents. Les textes de Paul Jimenes ne refoulent rien mais prennent la forme d'habiles jongles
entre l'intime et le social, offrant plusieurs niveaux de compréhension. Les moments sombres voire menaçants chassent les passages les plus joyeux et enthousiastes. Une fois de plus ce combat de l'âme, sans maniérisme, nous projette de manière fascinante au cœur de la vie du groupe.

Musicalement le groupe gagne encore en puissance et en intensité: le jeu de guitare éblouissant de Baptiste Nollet et les rythmiques quasi-industrielles de Frédéric Trux inscrivent les chansons
dans une filiation aussi française qu'anglo-saxonne où l'on croiserait pêle-mêle les Dogs, Metal Urbain, Reich Orgasm, Wire et autres Wipers. A la brutalité ou au psychédélisme débridé de certains morceaux répondent des harmonies vocales parfois très pop ou osons-le "chanson française".

Du minimaliste et ravageur "Sympa", en ouverture, au sombre et inquiétant "A nu", en clôture, en passant par le percutant "Secret" ou le léger "Musique grecque", Pierre & Bastien a construit un
album dense, varié et plus complexe qu'il ne peut paraître aux premiers abords. A vous maintenant d'en découvrir tous les recoins!

Enregistré et mixé par Maxime Smadja au Château Vergogne, Gournay-sur-Marne, juillet et septembre 2015
Masterisé par Daniel Husayn à North London Bomb Factory, Londres, décembre 2016
Chœurs sur "Secret" par Maxime
Pochette réalisée par Steak

Back in April 2010, a few months after the release of their debut single ("No Sex" / "Crise boursière"), SDZ included Pierre & Bastien's "RMI" on its 10-year anniversary compilation. Later on,
other songs from the band ("Démocratie" and "Déglingo") were featured on other compilations released by the label. As much as we like compilations - a genre that is not a genre and that no one seems to fully appreciate - we decided to go one step further in our support of Pierre & Bastien and to actually release an album by them.

This third studio album shows the band at its best with a well-constructed set of songs. Paul Jimenes' lyrics hold nothing back but simulateneously juggle brilliantly between private and social
subjects hence creating several possible levels of understanding. Dark or menancing moods chase the light and brighter ones. Once again this fight of the soul puts us, without any preciosity, at
the heart of the band's life.

Musically, the band is more powerful and intense as ever: guitarist Baptiste Nollet is particularly dazzling and Frédéric Trux pounds sometimes a nearly industrial rhythm to the songs. One could
see in their sound derivations from bands like Wire, Wipers, Dogs, Metal Urbain or Reich Orgasm. To the sheer brutality or depraved psychedelics of some tracks respond some pop-like vocal harmonies of some other ones.

From the minimalist and destructive opener "Sympa" to the dark and disturbing closer "A nu", from the striking "Secret" to the light "Musique grecque", Pierre & Bastien has crafted a dense, varied
and more-complex-than-it-seems album. It's now yours to discover!

Recorded & mixed by Maxime Smadja at Château Vergogne, Gournay-sur-Marne, July & September 2015
Mastering by Daniel Husayn at North London Bomb Factory, London, December 2016
Backing vocals by Maxime on "Secret"
Artwork by Steak


"Their name may sound like some hip cafe but the music drives hard with buzzy melody" - Noisey


"On their most recent album, Musique Grecque, the guitars chug and buzz, and Frédéric's drums relentless push a brisk pace. The urgently voiced lyrics are in French, but I found that fact neither
distracting nor detracting. If you are a fan of Wire, Terry Malts, or Parquet Courts, you owe it to yourself to give this record a spin." - When you motor away


"This Parisian trio has been mining a single-minded approach of unison guitar chug and French vocals across three studio full-lengths and a spate of singles over the past 10 years. Their first efforts were in a very abrasive Big Black-style mode of guitar/drum machine attack, but live percussion has helped to expand their sound (if not their tempos), and even without a bass player they still manage to get enough low end in the mix. It's a simple approach, rooted in the outskirts of American punk (huge Wipers influence all over, significant Destroy All Monsters-esque terminal stare on closer "A Nu," maybe their best song to date) and its continental/island counterparts (again on that last one there's a huge Gordons/Bailter Space-style presence that won't be ignored). Great stuff if you like to pogo, headnod, or otherwise lock in to a beat. Lately they've been breaking away and starting to play leads, but the rhythm guitar, vocals, and steady beat are all cornerstones of their sound, and present at all times. Like their last one Que de Bonheur, they make so few adjustments to their sound, that the ones that are present allow for a greater flexibility in such a rigid musical template, and the whip-around hooks of "Bon a Rien" and "Baskets" showcase a band moving far beyond formula into mastery." - Doug Mosurock / Still Single
"Musique Grecque is more than worth seeking out, keeping pace with the excellent "Que du Bonheur" and just barely nipping it at the finish line. P&B have always exuded a cool somewhere in between "1950s band with synchronized moves" and "band clad in leather and sunglasses in a smoke-filled room," and this new LP really hammers that idea home. As is Pierre & Bastien's wont, there's lots of repetition here, played with white knuckles and a dead-eyed stare, but the flourishes are more subtle than ever. The solos and motifs scattered across the record are paranoid ("Mitterand") and cautious ("Sympa") rather than exuberant (Que du Bonheur's "Race"). This lends the whole album a sinister bent that I didn't pick up on previous releases, made most obvious on closer "À Nu," above. You'll still be nodding along with Musique Grecque for it's 28 minutes - this is yet another streamlining, not downplaying, of strengths for the group - but you'll likely be glaring over your shoulder all the while." - I feel like a Porsche

"Hailing from Paris Pierre & Bastien play a stripped down style of post-punk. "Musique Grecque contains nine tracks based on repetitive song structures, driving monotonic beats and subliminal melodies. The songs are catchy but at the same time they show rough edges. Pierre & Bastien take cues from British post-punk bands like Wire or Swell Maps, but don't get me wrong: this LP speaks it's very own musical language. Highly recommended!" - Ride A Dove

"si le punk a jamais existé quelque part sur la planète, il se manifeste encore ici pleinement, passionnément" - Libération

"On le sentait faiblard, avec sa face pâle et ses jambes tremblantes. Mais après deux albums et une flopée d'EP de Pierre & Bastien, le punk français va beaucoup mieux. Et les trois Parisiens n'en ont pas fini avec leur cure de Juvamine et Musique grecque, leur nouvel album, leur file un nouveau coup de pied au derche" - Kiblind


"Contrairement à certains de ses condisciples qui noient le poisson dans la métaphore, Pierre & Bastien a le mérite d'appeler un chat un chat et énonce crûment ses quatre vérités à un pays engoncé dans la pantalonnade politique, en décalage total avec le réel. Son (post)punk prolo crie victoire sans se faire illusion ("On a tous quelque chose en nous de Mitterand. Comme si nous étions ses enfants"), avec une absence totale de prétention, mais un majeur dressé bien haut au nez du néolibéralisme et de toutes ces idéologies fascisantes déguisées en Père Noël. Le trio sans peur ni reproche assène ses hymnes garage avec un rictus amer qui en dit long et empêche de se cogner la tête contre les murs. (...) Un album salutaire qui, comme son nom l'indique, se savoure comme un kebab de trois du mat, après s'être envoyé quelques pintes dans un mélange d'allégresse et de désenchantement" - New Noise

"le troisième album de Pierre & Bastien va servir (pour les six mois à venir) de réponse lapidaire à l'encontre des calculateurs et des faux derches qui encombrent nos boites mails de musiques bonnes à se pendre" - Sun Burns Out

"avec ses allitérations un peu bébêtes mais à la simplicité obsédante (les mecs avec leurs fringues / les mecs avec leur fric dans "Secret") et son ironie détachée et clinique, on se dit que Pierre & Bastien dit peut-être bien plus de l'aliénation sociale, sexuelle et matérielle d'aujourd'hui que s'il avait l'air de croire une seconde à ce qu'il racontait" - The Drone




Order the record // Commander le disque


----
STILL AVAILABLE!!! TOUJOURS DISPO!!!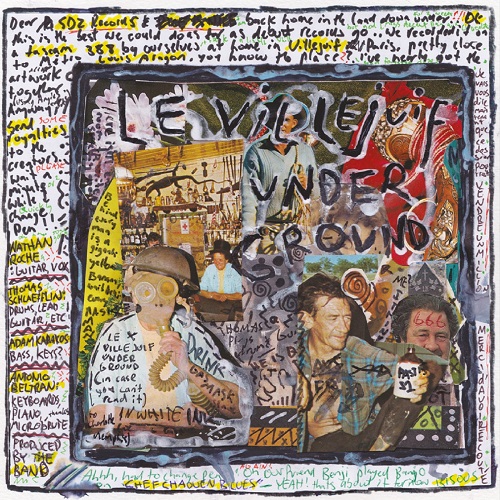 Le Villejuif Underground "s/t" LP (SDZ 020)
Sorti le 13 Juin 2016 // Original release date June 13, 2016
Deuxième pressage disponible depuis le 12 Mai 2017
Second pressing now available (since May 12, 2017)


Order the record // Commander le disque
Nathan Roche is a poet and musician from Townsville, Australia. He played in a bunch of bands in his home country - Marf Loth, Camperdown & Out, Home Run, The Wentworth Avenue Breeze-Out, Redneck Discotheque, The Revisionists - and released a dozen albums. Not mentioning three solo records in the past 3 years, notably on his own book/music imprint Glenlivet-A-Gogh.

He is a versatile artist and his music brings to minds Lou Reed, Kevin Ayers or early Brian Eno. It does not sound pretentious or uptight. On the contratry, there is a loose and warm feeling to most of his songs.

Close to a number of great bands from the current australian music scene, Nathan is now based in France - Villejuif in the south-eastern suburb of Paris to be precise - and he formed a new band with local musicians, fitly called LE VILLEJUIF UNDERGROUND.

The band has already played with the likes of The Rebel, Ausmuteants, Bazooka, Buck Biloxi and the Fucks, Juan Wauters and Sea Pinks and recently completed a full chinese tour. SDZ is proud to present their very first LP!

Mastering by Mikey Young


Poète et musicien en provenance de Townsville (Australie), Nathan Roche a joué dans de nombreux groupes - Marf Loth, Camperdown & Out, Home Run, The Wentworth Avenue Breeze-Out, Redneck Discotheque, The Revisionists - avec lesquels il a déjà sorti une douzaine d'albums. On lui doit également trois albums solo ("Watch it wharf" en 2013, "Magnetic Memories" en 2014 et "Cathedral Made Outta' Green Cards" en 2015, la plupart sur son propre label Glenlivet-A-Gogh).

Touche-à-tout surdoué, il peut évoquer autant Lou Reed que Kevin Ayers ou Brian Eno, sans prétention, et avec une bonhommie peu commune.

Proche de nombreux groupes australiens actuels, Nathan Roche est désormais installé en France - à Villejuif (94) pour être précis - et a monté un groupe avec des musiciens locaux, le bien nommé VILLEJUIF UNDERGROUND.

Le groupe s'est déjà illustré aux côtés de formations comme Ausmuteants, Bazooka, Buck Biloxi and the Fucks, Sea Pinks, Juan Wauters et The Rebel et a tourné en Chine ce printemps. SDZ est fier de vous présenter leur premier album, masterisé par le gourou australien Mikey Young!


"Its your true north star of bummed out bodega cool, late summer saunter and ground down penniless amble. Everything on their eponymous LP feels like the oldest sweater in your drawer; comfortable, stained and putting on airs for no one" - Raven sings the blues

"...this band is so cool and righteous that I plan on keeping them to myself." - Yellow Green Red

"une séduisante nonchalance qui donne envie de prendre la vie du bon côté" - Longueur d'ondes

"
A chaque pas de plus dans cet album on s'émerveille des riffs de guitare qui font mouche et de ce très étrange clavier au son de fête foraine qui donne au disque un côté festif à peu près aussi sain que la birthday party de ton petit frère animée par le clown de Ça
" -
Earshat
"
C'est faussement crade et saturé ; lui-même producteur, Roche ne fait rien au hasard. L'effet de grésillement, souligné par les arpèges du synthé, rappelle The Sonics, avec un petit quelque chose de plus théâtral, de plus lyrique...On parle de premier album mais cet opus est le fruit d'un parcours riche, et en appelle d'autres encore plus marquants.
" -
The ARTChemists
"
disque au charme inouï
" -
Indiepoprock
"
Et ainsi on se surprend à écouter en boucle l'album, satisfait que quelqu'un rouvre la boutique et ose balancer des titres comme "Visions of Shannon", "The Daintree Is Gone", "Cold Dark Place In Your Art", la superbe "Portrait Of A Serial Killer" ou encore "Chefchouen Blues". Une superbe sortie que l'on doit au label SDZ Records.
" -
Raw Power
"Le Villejuif Underground – un Australien au chant, et trois Français derrière – ne fait pas dans l'interprétation du répertoire de la bande à Lou Reed, mais assume simplement ses emprunts, avec un brin d'humour. Sur son premier album sorti à l'été 2016, le groupe français, effectivement installé à Villejuif dans le 94, convoque régulièrement les fantômes du groupe américain (bien qu'il situe ses influences ailleurs, de Kim Fowley à The Band) : même noirceur, même guitares bluesy, lancinantes et répétitives, même chant grave, ivre et nonchalant… Mais au milieu de tout cela, pourtant, le rock du Villejuif Underground effectue un pas de côté, affirme par petites touches sa singularité, son détachement." - Telerama

"Ils sont les enfants de Kim Fowley, des Fugs et de Lou Reed. Le chaînon manquant entre le stade Karl Marx de Villejuif et le Chelsea Hotel de New York.(...) la dissonance et l'humour au son de chansons dilatées dans un répertoire garage lofi mariant la mélodie molle, les filets de guitare claire et le mental psychédélique." - La Station Service Strasbourg

"Le son du Villejuif Underground est vraiment une réussite. Les mauvaises langues diront qu'il sonne trop Velvet Underground, mais ne les écoutez pas, car la fraicheur décomplexée du groupe à jouer ce qu'il aime (qu'importe les références) est tellement assumée, que leur musique est encore plus belle. Ce premier album est une vraie réussite à écouter dès aujourd'hui." - Foutraque

Order the record // Commander le disque

----
STILL AVAILABLE!!! TOUJOURS DISPO!!!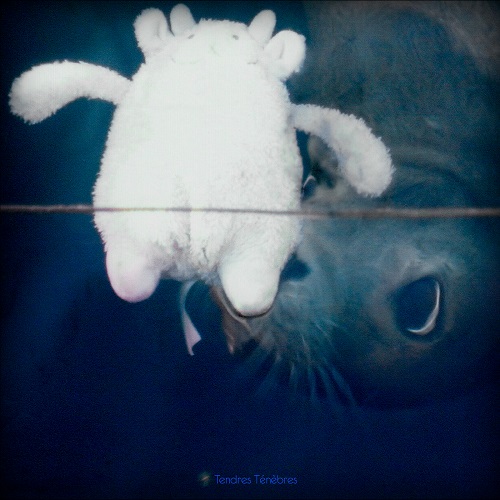 V/A "Tendres Ténèbres" LP (CRU010)


Au carrefour de nos errances se trouve à nouveau un puits d'obscurité. De celui-ci surgit encore et toujours l'horreur du monde. Mais c'est aussi la source de nos songes, qu'ils soient rêves ou cauchemars, et le royaume d'Hypnos dans lequel nous avons tous grandi. Dans ces ténèbres notre commun est une humanité qui dit tout de notre création et de notre finitude. Aujourd'hui la tendresse peut être notre guide dans cette nuit trop épaisse, dans ces états d'inconscience qui s'étendent dans un rythme inconnu, au delà de leur nécessité vitale. C'est ainsi que nous sommes tous initiés à comprendre ce qui nous dépasse.
Dans la lignée de ses précédentes compilations- mais cette fois au format vinyle- le label
Crudités
, affilié à SDZ, présente aujourd'hui "Tendres Ténèbres", quinze variations autour du thème de la berceuse et du sommeil comme nécessité, à écouter à tombeau ouvert. A la hauteur des paysages complexes qui se construisent à l'ombre de notre vie éveillée, les morceaux sont tantôt des écrins de délicatesse (Gabrielle Maes de Shake Shake Bolino, Charlène Répétition de Rose Mercie, Renka de Kartei ou encore Space Blue et Mulan Serrico dont les albums sont sortis sur Crudités), tantôt des envolées cosmiques (Jolie Boue, nouveau projet d'Èlg, Hess de Feeling of Love), tantôt des moments d'intenses curiosités nocturnes (Ray Yours & The F, nouveau projet de 11ième étage; Kaput), d'insomnies furieuses (Nicolalala, l'ex Bobpopkillers, Maria Violenza ex-Capputtini I Lignu) ou de profondes méditations mélancoliques (Elatu Nessa, Discombobulatrix). Laissez-vous porter par la douceur brute de ces ténèbres.
Sélection des morceaux: Max Dembo & Puréepure
Mastering par El Mofo.
Artwork: Noélie Martin & Puréepure
Once again, at the crossroads of our wanderings there is a dark, bottomless well. From this the true horrors of the world arises over and over. It is also the source of our fantasies, either dreams or nightmares, and the world of imagination in which we all grew up. That darkness reveals our common humanity, that speaks of our very creation and finitude. Today, tenderness is our only guide through the unfamiliar night now thick with multiple states of unconsciousness that extend beyond out vital need and into the unknown. Thus we are all insiders and investigators to understand what is reality and what is beyond us.

In line with its previous compilations - but this time on vinyl - the Crudités label, affiliated with SDZ Records, today presents "Tendres Ténèbres", fifteen variations on the themes of lullabies and sleep.Within a song, complex landscapes are built in the shadows of our waking life. The songs are sometimes delicate (Gabrielle Maes of Shake Shake Bolino, Charlene Repetition of Rose Mercie, Renka of Kartei or Space Blue and Mulan Serrico whose albums were released on Crudités), sometimes cosmic explosions (Jolie Boue, a new project of Èlg, Hess of Feeling of Love), sometimes intense nocturnal insights (Ray Yours & The F, new project of 11ieme étage; Kaput) sometimes displays of furious insomnia (Nicolalala, ex Bobpopkillers, Maria Violenza ex Capputtini I Lignu) or deep tranced melancholic meditations (Elatu Nessa, Discombobulatrix). The listener enters a world inspired by lullabies and formulates the visual dreams that would usually follow. In doing so, they gain a new perspective and experience carrying them back into the real world.

Tracks selection: Max Dembo & Pureepure
Mastering by El Mofo.
Artwork: Noelie Martin & Pureepure


"La Grande Triple Alliance Internationale de la hess, en somme." - The Drone

"Comme une histoire, on se laisse porter par les morceaux (les chapitres) et dès le générique de fin au parfum folk avec Elatu Nessa, on n'a qu'une envie, c'est de remettre l'histoire en route. Ici pas de générique de fin, pas de disque rayé avec le sillon qui tourne en boucle, mais des histoires qui tournent et qui tournent." - Foutraque



Order the record
//
Commander le disque



----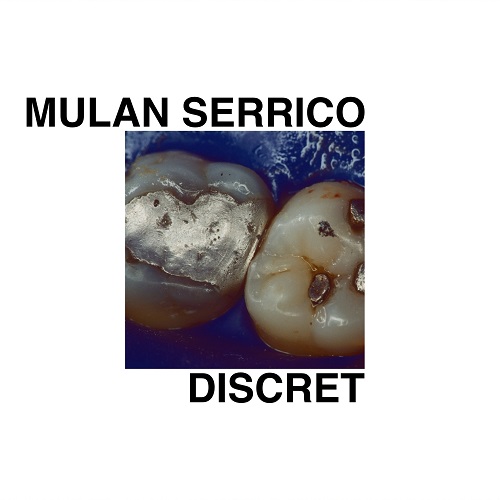 Mulan Serrico "Discret" LP (CRU011)
Artwork by
Lili Reynaud Dewar
"Le coup de trique ténu, minimaliste, d'une boîte à rythmes de l'âge de pierre. Un séquenceur dévide ses boucles lancinantes, tandis qu'une voix brouillée susurre des sérénades douce-amères. Crooner sans pare-chocs, Mulan Serrico a le blues qui colle aux basques, la mélancolie des grands espaces corrélée au repli sur soi. Le regard droit et la gorge haute, la prestance d'un roi face au Rien. Le grenoblois Nicolas Murer, dont Mulan Serrico n'est rien d'autre que l'anagramme, est un artiste qui n'a rien à vendre et rien à perdre. Il fut jadis Ton Ami (2005-2008), mais a mille autres projets solo sous le coude sur son label Stochastic Releases: Macon, Maurer ou Spor Tranquil selon l'humeur, quand il ne lâche pas les clébards avec son duo Gueule Ouverte, hymnes punk-rock aux poches trouées. Il a également à son actif un opéra-performance en duo avec l'artiste contemporaine Lili Reynaud-Dewar, qui a été montrée à la Biennale de Venise en 2015.

Mulan Serrico, c'est un peu la synthèse de tout ça. Ses chansons électro low-fi prennent racine le long d'un plissement de terrain, la besace de Paul Celan sanglée au garrot de Chris & Cosey. Agoraphobie envahissante, croupissure électronique. Complainte solitaire, isolationnisme proustien. Une musique des non-dits et des chuchotements inavouables, des « vérités pleines d'alcool ». Horizon de l'absence, acid house capitonnée. Labeur toujours, amour jamais. Anesthésie des sentiments en direction assistée. New beat des âmes damnées, techno sculptée dans le granit. Un lavis d'acide qui dilue les souffrances dans l'euphorie de l'instant. La suffisance monomaniaque qui confine à l'auto-dénigrement, l'hilarité sans rire des désespérés. Poésie décharnée sur un dancefloor décimé, la prose de Mulan Serrico s'acharne à faire obstruction au marasme en attendant les lendemains qui chantent."
- Julien Bécourt.

"A rhythm box from the Stone Age, as thin as a rake, pops up all of a sudden. A sequencer spits its throbbing loops while a blurred voice whispers a bitter-sweet serenade. Crooner without a shield, Mulan Serrico's got the blues under his skin, but his melancholic tendencies, deeply linked to the great outdoors, may reach the point of autistic withdrawal. Looking straight and standing tall, he possesses the presence of a king conquering the nothingness. An inhabitant of Grenoble, Mulan Serrico - which is the anagram of his full name, Nicolas Murer - is an artist who's got nothing to sell and nothing to lose. He used to be Ton Ami (2005-2008), but has plenty of other projects under his Stochastic Releases belt, such as Macon, Murer or Spor Tranquil, depending on his mood. When anger takes over, he might as well break loose with his mighty Gueule Ouverte duet, which performs stone-broke punk-rock anthems. Last but not least, he's behind a long-lasting collaboration with the contemporary French artist Lili Reynaud-Dewar, including an intimate opera that was performed at the Venice Biennale in 2015.

Well, his first EP is pretty much a summary of everything mentioned above. His low-fi electro songs are rooted in a landslide, Paul Celan's burden hanging at the withers of Chris & Cosey. Invasive agoraphobia, electronic stagnation. Solitary lament, Proustian isolationism. A music born from cryptic thoughts and shameful whispers, in order to blurt out "truths full of alcohol". Horizon of the absence, Acid House for padded cells. Labour still, love never. Anesthesia of the feelings to the power steering system. New Beat for hypochondriacs, techno carved in granite. An acid wash which dilutes the sufferings in the euphoria of the moment. The haggard gaze and the blank expression of a monomaniac who borders on the self-belittlement, the hilarity without laughter of the most desperate cases. Emaciated poetry on a decimated dancefloor, Mulan Serrico's prose persists in thwarting apathy while waiting for a brighter future."
- Julien Becourt


"Après quelques minutes d'adaptation, cette mixture se métamorphose en un organisme musical tout simplement addictif et entrainant" - R/ve

"Une litanie de complaintes comme dépouillées de leur spleen, un chant qui couine plus qu'il ne croone, et qui croule sous les coups de butoir d'une minimal wave technoïde : vous l'aurez compris, on est effectivement pour les bienfaits de "l'autodénigrement et de l'autorédemption" - The Drone

"A la simplicité apparente du matériel utilisé et au minimalisme assumé des productions, le grenoblois Mulan Serrico répond par une myriade de petits coups de génie et une voix manipulatrice. Son "Discret" sorti début Juin chez Crudités en est la consécration" - Kiblind
"Un LP aux allures de moyen-métrage arty, aux images sales et éclaboussées de débris de chairs pendantes, flagellation des idées de soi et de grisonnante intelligentsia dépravée et oubliée du commun des mortels, poésie romantique en mode Les voluptés de l'autodénigrement et de l'autorédemption, track aux volutes hypnotiques et aux descentes absinthesques. Très fortement recommandé." - Silenceandsound

"With a hint of wackiness on par with, say, a much, much, much tamer Les Georges Leningrad, and the ability to put asses in the seats and feet on the dancefloor, Serrico carves out an ambitious path on Discret that could branch out in any direction from here, as this guy most likely grows to the size of his cage like an Osker. Looking forward/hoping to hear more, that's for sure." - Tiny Mix Tapes

"I'm strongly reminded of the simplistic synth-wave sleaze of fellow Frenchmen Scorpion Violente, although Mulan Serrico is mercifully free of lecherous imagery. Discret plays out somewhere between early Chris & Cosey and the Excitebike soundtrack, with basic acid movements and throwback melodies not far from the first Veiled album, much of which is joined by sonically-affected male vocals.(...) if you're throwing a dungeon dance-party and the bar is only serving red wine, you might be wishing you had a copy of Discret nearby." - Yellow Green Red
Order the record // Commander le disque

~~~~~~~~~~~~~~~~~~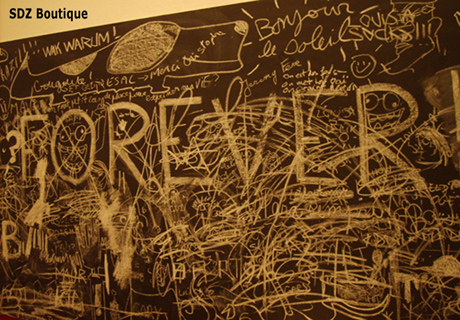 ~~~~~~~~~~~~~~~~~~
PREVIOUS RELEASES ON SDZ RECORDS (SOLD OUT)
Les Viperes § The D4 § Anteenagers M.C § The Rebel § Cheveu § Plastobeton § V/A Flottante tension d'eclipse § Les Bellas § The Mantles § The Limiñanas § Dan Melchior § Drosofile § Vince & His Lost Delegation § Èlg § Old Mate § V/A Quadrature du carré §
~~~~~~~~~~~~~~~~~~
PREVIOUS RELEASES ON CRUDITES TAPES (SOLD OUT)
§ V/A Tartare de subconscient infini §
§ V/A Marécages Restauration §
§ Ilth Zongz §
§ The Spectrometers §
§ V/A Réviviscence Ectoplasmique §
§ Red Math §
§ Armure §

§ Space Blue §

§ The Dictaphone §

§ Mattin §
~~~~~~~~~~~~~~~~~~
SDZ Distro (new!)