OUT in June 2016 !!!
Le Villejuif Underground "s/t" LP (SDZ 020) // V/A "Tendres Ténèbres" LP (CRU010) // Mulan Serrico "Discret" LP (CRU011)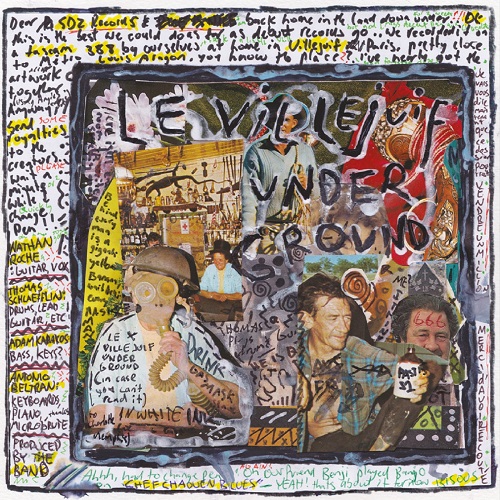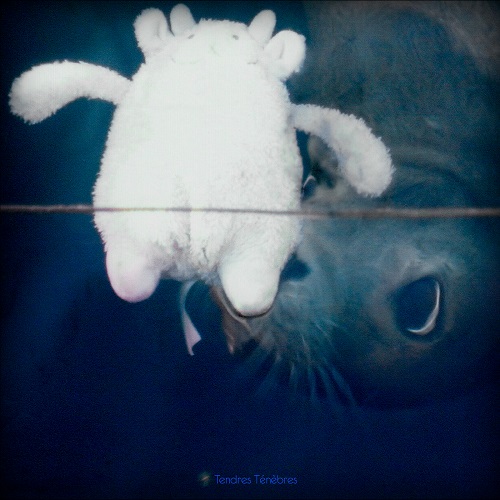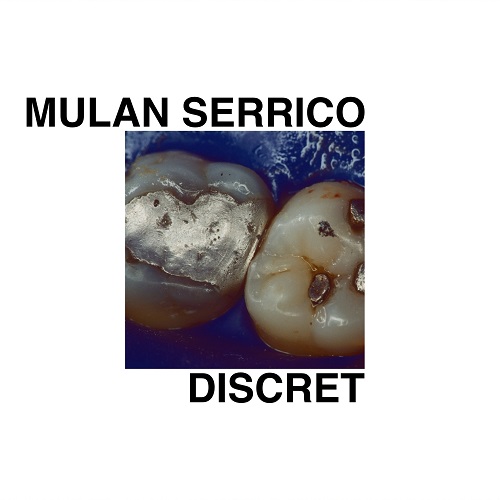 ----
OUT NOW on
Crudités Tapes
:
The Dictaphone "Tp Hss" CS45 (CRU 009)
Discovered through Toddi Wellman's "Tano" (on the "Flottante tension d'eclipse" compilation) on which he was drumming, The Dictaphone started as a one-man-wonder and released more than 6 albums in just five years on labels like Kill Shaman, Tolmie Terrapin Press, Sweet Rot or Cocktail Pueblo. Pushing punk experimentations to the fullest, The Dictaphone is now a full band and a total explosion of sounds: from extreme psychedelics to robotic minimal wave, from intriguing kraut-wave to savage garage-surf. There is simply no boundaries that can't be trespassed by this band. Dark, frenetic, lit, tangled, The Dictaphone is quite unpredictable. Crudites Tapes is proud to present their new album "Tp Hss", released almost simultaneously with the "Hazmat" LP (on Totally Wired).
Découvert via le groupe tourangeau Toddi Wellman ("Tano" sur la compilation "Flottante tension d'éclipse") - groupe avec lequel il partage quelques accointances - The Dictaphone s'illustre depuis plus de cinq ans sur une demi-douzaine d'albums aussi mystérieux que passionnants, publiés sur des labels comme Kill Shaman, Tolmie Terrapin Press, Sweet Rot ou Cocktail Pueblo. Des bizarreries en chambre des débuts au kraut-wave cosmique d'aujourd'hui, il n'y a qu'un pas. The Dictaphone multiplie les expérimentations punk, pousse à l'occasion des envies psychédéliques à leur paroxysme et flirte régulièrement avec la minimal wave, le kraut, le garage ou la surf avec une frénésie minutieuse. Tour à tour sombre, sinueux, inquiétant, dansant ou allumé, The Dictaphone est imprévisible et inclassable. Crudités Tapes est fier de vous présenter le nouvel album "Tp Hss" qui sort presque simultanément avec un autre album, "Hazmat" (sur le label autrichien Totally Wired), enième preuve d'une créativité aussi débordante qu'enthousiasmante.
"une avalanche de morceaux aussi géniaux que bancals" - Hartzine
"Did you hear me? Endlessly relistenable. I'm not lying." - Critical Masses
"Genuinely a great composition and worth infinite listens" - Lost in a sea of sound
You can order the limited edition cassette
over here
!!!
Vous pouvez commander la cassette (tirage limité)
par ici
!!!
----
OUT NOW on
Crudités Tapes
: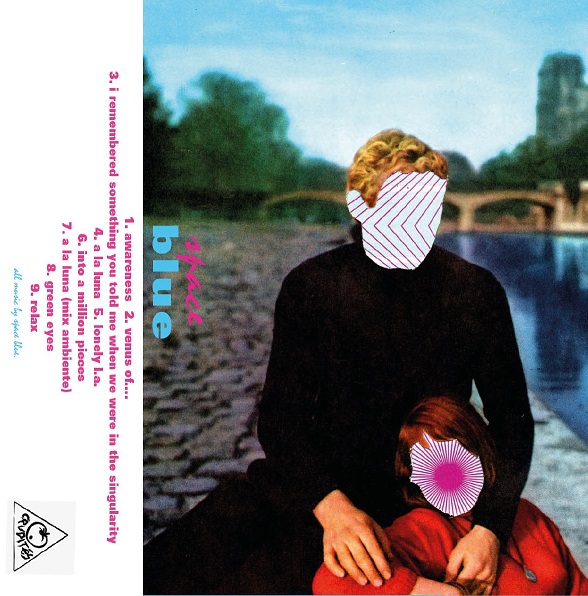 Space Blue "s/t" CS60 (CRU 008)
First solo album from this former member of Electric Bunnies from Florida (a particularly versatile band with an album on Florida's Dying and singles on Sacred Bones, Columbus Discount and Die Stasi). Based in Los Angeles, Space Blue (possible nod to a Suicide song) is mainly electronic but keeps on with the twisted and intriguing psychedelics of Electric Bunnies. Nine tracks and as many galaxies or tropical gardens to discover, with acid moods subtly invading your brain. It's an home-made album with carefully constructed textures, voices and tracklisting. Space Blue takes the time to surprise you and the sensations this album induce are not those that vanishe as quickly as they appeared.
Premier album solo du guitariste des regrettés floridiens d'Electric Bunnies (groupe particulièrement caméléon avec un album sur Florida's Dying et des singles sur Sacred Bones, Columbus Discount et Die Stasi). Basé à Los Angeles, Space Blue (possible référence à une chanson de Suicide) est de dominante électronique mais poursuit aussi le psychédélisme tordu et intriguant d'Electric Bunnies. Neuf morceaux comme autant de galaxies ou de jardins tropicaux, dont les ambiances acides se dévoilent doucement mais sûrement. Un album artisanal mais minutieusement construit, notamment les textures, les voix et les enchaînements. Space Blue prend le temps de vous surprendre et les sensations qu'il procure n'ont rien d'évanescentes.
"Entre post-proto-post-techno, proto-post-post techno et post-rock (ironique), cet ancien membre des Electric Bunnies prolonge en quelque sorte une oeuvre qu'on désespérait d'entendre prolongée quelque part en 2015 - celle de Black Dice et de son petit génie de leader Eric Copeland - et ça, c'est pas rien." - The Drone

"Membre fondateur du groupe psyché The Electric Bunnies, responsable notamment de l'album Through The Magical Door en 2009 sur Floridas Dying, le néo-Californien Space Blue ouvre avec la longue Awareness, pétrie d'une monotonie électronique absolument captivante, son premier LP cassette sur SDZ Records. Parsemé de quelques bribes de voix, et parcheminé d'un beat s'arrachant progressivement des décombres d'un orgue carillonnant, ledit morceau plante non innocemment le décor pour les huit suivants (...) entre effet lysergique des boucles rythmiques, acidité des paysages sonores et minutie des arrangements." - Hartzine

"Loin des fulgurances psyché-punk de son groupe The Electric Bunnies, la californien Space Blue nous fait plonger avec son premier album solo au titre éponyme, dans un univers aux volutes experimentales ambient captivantes. Dès le track d'ouverture Awareness, les boucles aux sonorités vaguement indus tournoient dans l'espace, pour se muter en une mélodie cristalline appuyée par une rythmique à la cadence langoureuse, montant progressivement vers des cieux traversés de pertubations électriques. Space Blue fige le temps dans un immobilisme mobile, élaborant des compositions au minimalisme rêche, enrobées de déflagrations à la retenue sous-jacente. Proche d'artistes comme Demdike Stare, Huerco S. ou Patricia, l'américain propose une oeuvre squelettique au système nerveux traversé de ramifications incandescentes, faisceaux drones mouvants aux saveurs tumultueuses, nous plongeant avec malice d'un titre à l'autre vers des contrées imaginaires au pouvoir catalyseur, changeant constamment de direction sans jamais nous perdre dans son dédale de sensations et d'émotions. Une oeuvre cathartique aux battements cinétiques. Très fortement recommandé." - Silenceandsound

"Space Blue, if that is his real name, is a straight-up banger, wetting his beak in several styles and never shrinking from the challenges presented by creating electronic music in a crowded field of competitors. "Lonely L.A." is just one of the impressive compositions afoot, but its wiry frame and fascinating underbelly aptly represent why this tape is so unique: Its contents ever-so-patiently form a cocoon for the ear, fluffy and cushioned by all manner of digital distraction. "A La Luna" also tweaks the ear with a lofi drum-machine beat and strange flora/fauna that seem to bark at the listener. Quite the trip, quite the intrigue; Space Blue cracks enough codes to deserve a spot on your tape shelf, at the very least." - Consequence of sound
"Space Blue, a solo electronic offshoot of Florida's Electric Bunnies, gets me, I think. His new tape is a deep, dark look at the cosmos, that part of space that you see looking out of the window of a craft (like New Horizons maybe! If it were built to carry people, I guess). It's dark, your field of vision isn't overcrowded with romantic sci-fi imagery, and the only way you'll get to see anything remotely up close is if you perform some severely advanced mathematical equation to get there. Space is freaking big, you guys – if you ever went out in it, you'd probably get that.
So "Awareness," then, drops you right in the middle of nothing, its barely-there beat glitching along, making you wait for any payoff. The song glides along on this for a while before adding a heavier bottom end, but even then it just propels itself forward, making you think for yourself instead of telling you how to feel. Are you awake in your spaceship? You've got a lot of time on your hands. You've got eleven minutes of this song. Maybe this song is the soundtrack to your own awareness.
"Venus of" doubles down on the intensity of the rhythm and mood, and lumbers through its machinations in only seven minutes, but those seven minutes are among the most bracing you'll ever experience while in deep space. I'm not sensing any danger in the track, so just enjoy it, knowing that you're puny, and human, and you're at the mercy of something other than yourself. Space Blue says, you're not in control, sucker! Listen to my awesomeness. "I Remember Something You Told Me While We Were in the Singularity," great title aside, feels like time stops, especially after the great one-two opening punch.
"A La Luna" has a similar feel to "Venus of," but way more industrial, and it's a fun, scrappy mood switch after "Singularity." There's another version of the song, later, dubbed "(Mix Ambiente)," and it teases out a much more gauzy, ethereal center than its predecessor. The two tracks work nicely as juxtapositions of each other. "Green Eyes" almost sounds like a tossed-off Animal Collective track, and it even has vocals! An unlikely but welcome surprise, throwing just a large enough spanner into the works to cause your CPU to hiccup then resume. "Relax" ends the album on a beautiful ambient note, with chimes and a female voice whispering unintelligible words in your ear. Perhaps in your hibernation tank aboard your vessel? Who knows, what am I, Isaac Asimov? Go finish your lunch.
This is a wildly promising debut from Space Blue, and something I could listen to over and over again on headphones. I mean, seriously, that one-two opening punch of "Awareness" and "Venus of" takes me to all the right places. I'm gonna have to keep my eye on this fella…" - Critical Masses

Acheter / Buy
Les Viperes § The D4 § Anteenagers M.C § The Rebel § Cheveu § Plastobeton § V/A Flottante tension d'eclipse § Les Bellas § The Mantles § The Limiñanas § Dan Melchior § Drosofile § Vince & His Lost Delegation § Èlg § Old Mate § V/A Quadrature du carré